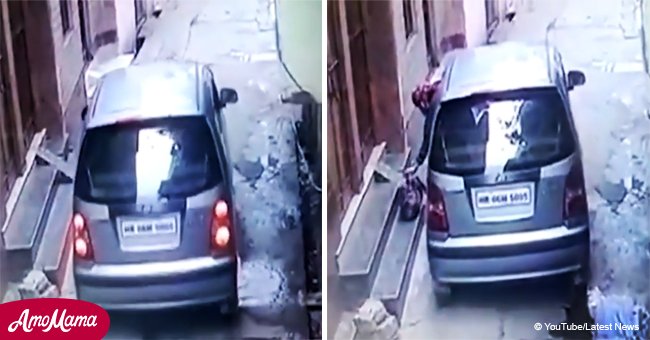 Mother abandoning her baby caught on CCTV camera
Police have launched an investigation to try and track down the baby girl's mother.
CCTV footage has emerged from Muzaffarnagar, India, of a woman climbing out of her car and leaving a newborn baby girl on a stranger's doorstep.
As reported by Times of India, locals found the baby girl out on the steps of the house, and started enquiring about the girl's parents.
Police were informed about the discovery, and announced that they were launching an investigation into the abandonment. It was then that CCTV footage was discovered showing her being left there.
The woman in the video clip was wearing a mask to cover her face, and was driving a car with a Haryana number plate.
Suza Rahi, who found the child on his doorstep, told Times of India that everybody in the community wants to adopt the newborn.
"Everybody in the colony wants to adopt her. She was taken to a hospital for check-up and police have started looking for her biological parents," he said.
Hazi Dilshad Ansari took the baby girl to the hospital to ensure she was healthy, and believes that the baby's mother took advantage of the fact that the streets are empty in the morning due to Ramzan.
She confirmed that a doctor had cleared the little girl health-wise. District administration is currently looking after the child.
Samay Pal Atri, sub-inspector at Nagar Kotawali police station, said that the police are trying to locate the baby's mother.
Please fill in your e-mail so we can share with you our top stories!