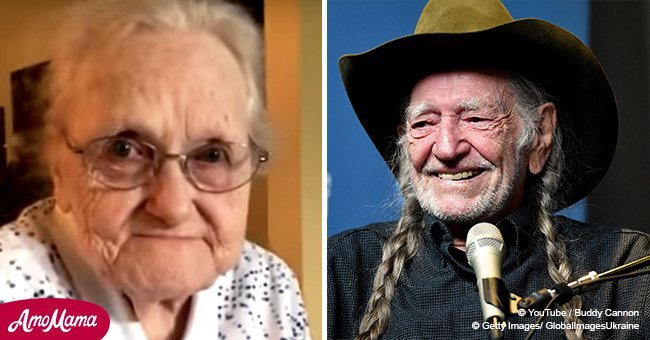 Willie Nelson records an adorable song written by a 92-year-old fan
The famous music producer caught on tape her mother trying to sing the words to the song she wrote for Willie Nelson.
At the age of 92 years, Lyndel Rhodes finally got the song she wrote recorded with the iconic country artist Willie Nelson giving it the voice.
Rhodes, who is the mother of famed songwriter and producer Buddy Cannon, wrote the song, Little House on The Hill, a song that was close to her heart.
In October 2016, Cannon helped his mother's dream of becoming a published songwriter come true.
In a video uploaded to YouTube by Cannon, the songwriter caught his mother's reaction when she heard the recording for the first time.
With the song with Nelson's voice playing in the background, he is seen encouraging his mother to sing along the lyrics to the song.
"What are you listening to?" he asks his mother in the video. Rhodes responds emotionally by saying, "Little House On The Hill," and adds that she "tried to" write the lyrics.
The son then asks Rhodes who she thought was singing the song, and she proudly replies, "Mister Willie."
Elated by the experience, Rhodes tries to sing along but she is struggling to find her voice. She manages to sing a few words despite her cracking voice and fading vocals for the final few seconds of the song.
Rhodes excitement at hearing the song she wrote recorded in the voice of Nelson could also be seen from the way her feet jumped up and down in her red slippers as she listened to the song.
Cannon is one of the popular music producers who has worked in the past with artists including George Strait, Jamey Johnson, Bill Anderson, Reba McEntire, George Jones, and Merle Haggard.
The song went on to become the lead-off track for Nelson's album God's Problem Child that came out in 2017.
Please fill in your e-mail so we can share with you our top stories!