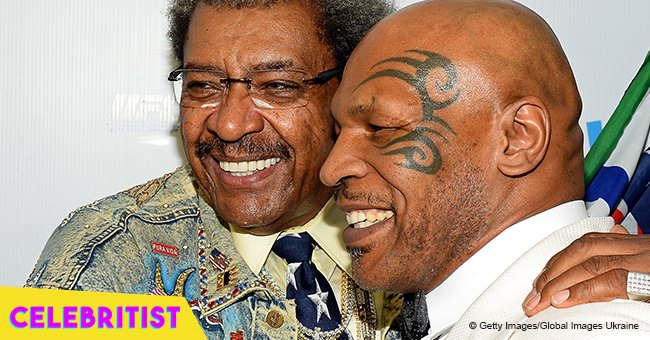 Mike Tyson finally speaks up after throwing water on Don King during Hall of Fame event
The boxer admits it was immature of him but clarifies one thing about his relationship with his former promoter.
The long standing feud between Mike Tyson and Don King isn't over as a recent video reveals. During the boxing legend's induction to the Boxing Hall of Fame this weekend, the notoriously hot-tempered boxer chucked his drink at his former promoter, reliving old wounds from the past.
In the video that's gone viral, Tyson is seated among a panel on stage when his arch enemy walked up to him and tapped him on the back. Evidently displeased, the 51-year-old heavyweight champion picked up his glass of water and shoved it towards the 87-year-old.
Though he certainly felt like drenching the promoter at that moment, he revealed to TMZ the next day that he regretted his actions.
"That was me being immature, I shouldn't have done that."
However, Tyson clarified that despite his regrets he and King were definitely not friends.
"But, you know, he touched me, he tapped me on my shoulder… it's just, I don't know. He talked in there like he was my friend and that was just bullcrap. He really did me in."
Their rift may have begun decades ago but Tyson clearly isn't over it. In 1998 he sued King for $100 million claiming the promoter fraudulently siphoned off millions from his boxing winnings, but to no avail.
In 2003, the famous sportsman filed for bankruptcy revealing he was facing a $23 million debt despite accumulating more than $300 million worth of winnings.
While King appears to have buried the hatchet, it's not likely Tyson will follow suit. At the looks of things, it would be best for the promoter to keep as far away from the boxer as he can lest he gets more than just a splash of water the next time.
Please fill in your e-mail so we can share with you our top stories!