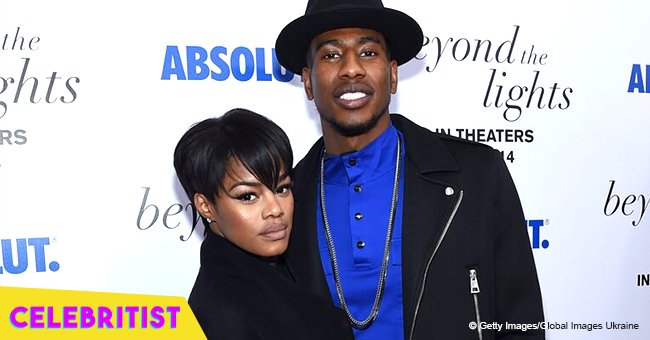 Teyana Taylor can't keep her eyes off her husband while he's performing on stage
The singer is photographed in awe of her husband amid recent reports of his infidelity.
Teyana Taylor was as supportive as a performer's wife could be when she kept her eyes glued to her husband Iman Schumpert during his recent show.
The 27-year-old singer who recently shut down rumors of her husband's cheating showed no signs of marital trouble when she showed up at the NBA player/rapper's gig with every intent to document his act.
Teyana held up her phone and directed its camera to her shirtless husband who was entertaining a crowd. She appeared engrossed in her activity with her eyes never leaving her main man.
Teyana was dressed in an all-black ensemble that highlighted her raging red hair which fell straight on her shoulders beneath a black beret.
The couple's 20-month marriage was recently rocked by an issue involving Iman and Drake's baby mama Sophie Brussaux. In Pusha T's track 'The Story of Adidon' which intended to take a swipe at Drake, the rapper named the adult film star as Drake's baby mama and also mentioned the Sacramento Kings player as one of many celebrities who slept with her.
Shutting down rumors insinuating Iman cheated on her with Sophie, the Harlem-bred singer took to Twitter to clear the air.
"No need to kill him in his sleep or get da strap! Lol He dealt with her before him & I even personally knew one another! I ain't got nothing to do with dat."
As she confirmed her husband had relations with Sophie way before they were a couple, so did Iman through a statement on Snapchat.
"Don't believe this trash. All of me and her interactions were prior to knowing my wife…let alone actually getting the chance at dating my wife. But now yall are just trying to make something happen…you guys are reaching because there's nothing to talk about. Get a life."
Teyana and Iman were married in October 2016, almost a year after they welcomed their daughter Iman "Junie" Tayla who was born in their home. Teyana went on early labor prompting her husband to deliver their child with his bare hands, with no time to take her to the hospital.
Please fill in your e-mail so we can share with you our top stories!