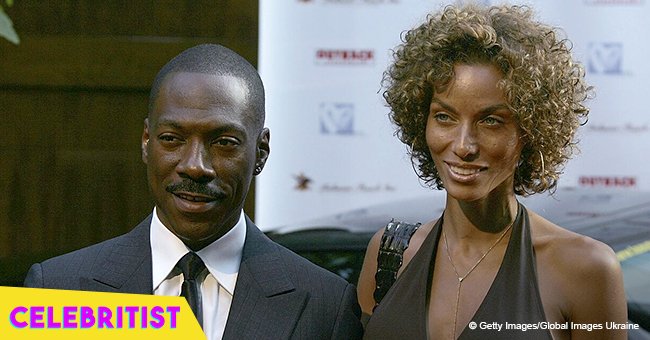 Eddie and Nicole Murphy's daughter rocks revealing dress in family pics from her art exhibition
Eddie and Nicole Murphy may be broken up and long divorced but they drop their pride for the sake of the family. They recently got together to celebrate their daughter's art exhibition and plaster their Instagram walls with her face.
Eddie and Nicole Murphy took to Instagram to celebrate their daughter Bria's art exhibition. They both expressed their pride in her career. Nicole captioned one of the photos this way: "We are all so proud of my beautiful @bria_murphy for putting on an amazing art gallery event showing her paintings."
Bria is not only a beauty, but she is also following in her parents' footsteps as an artist, model, and actress. She recently appeared alongside Ashley Tisdale and Jason Biggs in Amateur Night and will also appear in Conflict of Interest with late actor Tommy Ford.
The comedian has nine kids: Bria, Myles, Shayne, Zola, and Bella, Murphy's children with ex-wife Nicole; Christian, Murphy's son with Tamara Hood; and Eric, the comedian's eldest child with Paulette McNeely. There is also Izzy with his current wife and Angel Iris with Spice Girl Melanie Brown, yet he manages to treat them as though they are one big family. Even though he is not always in the best terms with their mothers, he was reported to have photos of all his children in his current house.
In an interview with ET Online, the actor expressed his thoughts for his kids. "The brightest part of my life is my kids. My world revolves around them -- even the old, gray bald ones," he teased.
"I'm glad that people get to see how talented she is. We've known for years how talented she is. It's exciting to see her stuff up on the walls… I'm having all of those proud parent feelings. I really got lucky with my kids. There really isn't a bad one in the bunch, everyone turned out to be really good people."
They are one big blended family.
Please fill in your e-mail so we can share with you our top stories!