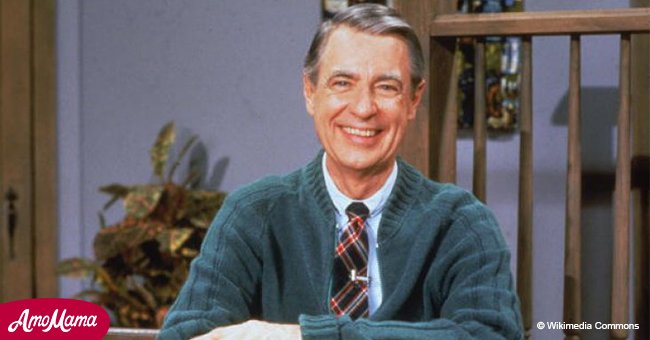 Mister Rogers' 90-year-old wife makes rare public appearance on 'Jimmy Fallon Show'
The popular children's show host had a wonderful 50-year marriage to the love of his life before he passed, and now she has shared some anecdotes of his life.
90-year-old Joanne Rogers was married to the beloved Fred Rogers of Mister Rogers' Neighborhood for half a century before he passed away in 2003 from stomach cancer at the age of 74.
Even though he has been gone for 15 years, Joanne still speaks fondly of the wonderful years they spent together, and shared some of those times when she appeared on The Tonight Show Starring Jimmy Fallon.
The sweet woman seemed delighted to be on the show, and talked jovially about her late husband with Fallon, who was excited to hear more about the show he had grown up with.
The white-haired widow was happy to chat about the new documentary currently in the making about her husband, but first needed to tell Fallon just how much she loves him.
"I'm so happy to be here. You know this kid grew up with the program," Mrs. Rogers said to the studio audience. "Jimmy, I would not have come from Pittsburgh to [New York City] for anybody besides you. It's just wonderful to be here. I adore you."
Fallon then launched into a wave of questions about the man he called "a kind and compassionate guy."
Fred had a well-known obsession with the number 143, and Joanne decided to share the reason behind the importance to him.
"1 for the word I, 4 for l-o-v-e, and 3 for y-o-u — I love you," she explained, to much awwing from the audience. When Fallon asked if it was a nod to her, she confirmed that it was.
The couple first met at university when they studied at Rollins College in Winter Park, Florida, and Joanne laughed as she explained that he stood out to her because he was different.
"In his young days, he was lively and for fun. But he talked about his feelings, and I could talk about my feelings to him, and the things that bothered us, the things that we loved," she said, adding: "You can't build a friendship without doing that, and don't you have to have a friendship to fall back on through your married life, and we had it for 50 years. That was nice."
Joanne further shared that her husband was an ordained minister in the Presbyterian church, and had always wanted to work with children.
During his show, he discussed serious topics such as divorce, war, death, assassination, racism, and kindness, in a way that children would be able to understand.
Won't You Be My Neighbor? is the documentary about Fred's life, and is currently being rolled out in select theaters.
Please fill in your e-mail so we can share with you our top stories!