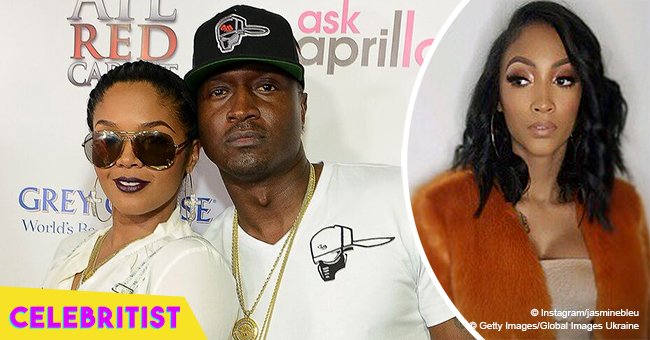 Kirk Frost's baby mama reacted to Rasheeda's behavior towards baby Kannon
Jasmine Washington had enough of Kirk's cold behavior toward their son, but instead of taking out her frustrations with the man, she went ahead and tried to talk to Rasheeda. The Boss Chick proved how classy she is, putting Jasmine in her place and walking away with dignity.
Rasheeda Frost's life was turned upside down last year after she found out her husband of 18 years not only cheated on her but got the other woman pregnant. The mistress, Jasmine, is a former stripper and now mom to 1-year-old Kannon.
Even though Rasheeda decided to welcome Kannon into the lives of her kids with Kirk, Ty, and Karter, she doesn't want anything to do with Jasmine. But the woman was not satisfied with that arrangement and wanted to give Rasheeda an official apology for ruining her family.
Speaking to Tia Becca and Just Brittany while jewelry shopping on an episode of "Love & Hip Hop: Atlanta, Jasmine explained her reasons for wanting to talk personally with Kirk's wife, saying:
"Because I have a child with a married man, people think I'm drama and mess when it's really the complete opposite. I've reached out to Rasheeda via a letter…it is a very hard conversation to have, but I feel like I should be going to her to clear the air with her."
"She is going to have a big part in my son's life so you know what I'm saying, a conversation needs to go down."
Jasmine also opened about her frustration over Kirk not taking an active role in Kannon's life, putting as an example how the man is often sharing photos of his other kids on social media and completely ignoring the little boy.
After many attempts from Jasmine, the "L&HH" cameras finally recorded the encounter between the two women, when Washington made a surprise appearance at the opening of Rasheeda's new Pressed store in Texas.
Even though fans were expecting wigs to fly and insults to be thrown back and forth, the songstress proved her class by handling the situation with grace. Jasmine almost didn't have a chance to speak her mind, as Rasheeda took over the conversation giving the woman a piece of her mind.
Frost stated that Kannon has nothing to with the mess they're in and she respects that, but when it comes to Jasmine she can't just forgive her behavior. Not only for the fact that she slept with a married man, but also about going to the press, posting photos of Karter on her Instagram, and talking behind her back.
Despite being visibly angry, Rasheeda had the last word and walked away from Jasmine, letting her and fans know that there's no a possibility for them to have a relationship at all, even though their kids are siblings.
Credit: GettyImages / Global Images of Ukraine
Fans praised Rasheeda for the way in which she handled the situation, but some of them wish she had the same energy when it comes to her cheating husband. The couple is reported to be on good terms and working on parenting their kids together while trying to fix their marriage.
Please fill in your e-mail so we can share with you our top stories!