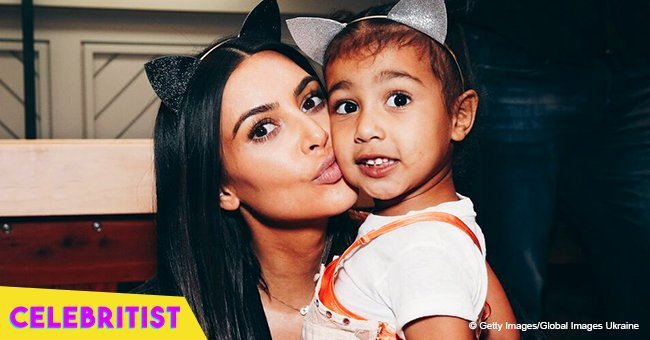 Kim Kardashian sparks controversy & gets slammed for straightening North's naturally curly hair
The "Keeping Up with the Kardashians" star is getting a lot of backlash from social media users after her eldest daughter was caught on photos wearing a ponytail with straightened hair. North West recently turned 5 years old, and fans believe she should be wearing her naturally curly hair.
Kim Kardashian is always getting hate for everything she does, and now, haters have found another reason to put the star on blast. Kim's motherhood choices have always been criticized, and now that she stepped out with her beautiful daughter wearing a long, sleek ponytail, the story is repeating.
The cute mother-daughter duo went out alongside one of North's friends and they were caught by photographers at Dylan's Candy Bar in New York City. The eldest child of the Kardashian West family was sporting a bright pink tracksuit and holding a stuffed unicorn under her arm, but what caught fans' attention was the lack of her beautiful curls.
After the pictures were released on the Internet, many people started to criticize Kim's choices, stating that is ridiculous that she's using hot tools on her child. Read some of the tweets attacking Kim below:
However, there were also some defenders, with many people calling the haters "pressed" and stating that is just hair. It grows back and it won't be damaged so easily.
A fan said "Y'all better not say a thing about North having her hair pressed either caused by the time y'all was her age ya momma had slapped a Just 4 Me perm on them beady bees," [sic] and other added "I'm sure North asked for her hair to be straightened so she got it done. Shutup you're reaching. Mad at her for what. Live your own life." [sic]
Last year, Kim talked about North's love for her curly hair on Interview Magazine, saying:
"She's obsessed with her curly hair, and if she finds someone who has the same hair, she runs to them and is like, "You have curly hair like me?" And we get to talk about it. We also talk about it with my niece Penelope, because she and North look really different, but they're best friends and they're together all the time."
North just celebrated her 5th birthday with an amazing party organized by her parents, and Kim left a sweet message for her on Instagram, writing:
"My baby girl turns 5 today. Never did I think back then that I would have my best friend for life! I'm so honored to be your mom Northie!"
One thing is for sure and is that North looks beautiful with any kind of hairstyle. She's growing up beautifully and while the haters keep on discussing her hair on social media, she looks completely happy with it.
Please fill in your e-mail so we can share with you our top stories!