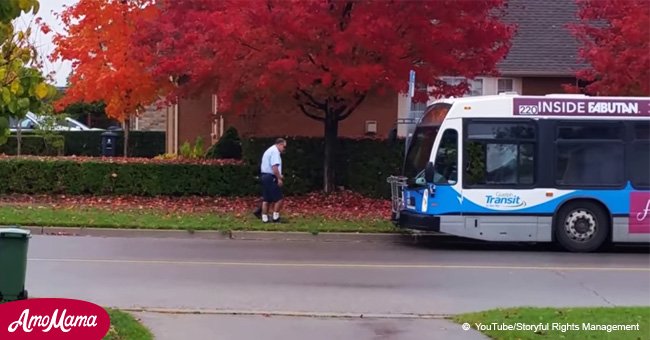 'Hero to many': Driver hops out to help elderly lady into the bus
A local resident, Dan Kochkovski, captured the video of a Guelph Transit driver doing something amazing when he saw an elderly woman struggling to catch his bus.
The bystander shared the video on Imgur after witnessing the incident in Guelph, Ontario, Canada, on October 21, 2016.
Canadians are known for their politeness and this video of an Ontario bus driver has proved it again. Many on the internet called him a hero and the video of his good deed went viral.
An unidentified Guelph Transit driver saw an elderly woman trying to make her way to the bus stop to catch his bus.
She was still about a 100 feet from the designated stop but she 'could barely manage to put one foot in front of the other.'
Kochkovski, who witnessed the incident, quickly took out his phone and shoot the bus driver's kind act.
The driver could have continued on his route without waiting for her. Instead, he out of his bus, walked over to her, and helped her walk the rest of the way.
'He patiently walked with her, having her body lean against his left arm, and helping her climb into the bus. Thank you bus driver. Maybe this is what you do every day, without asking for anything in return.'
Dan Kochkovski, Imgur, October 21, 2016.
He added that he posted the video as a thank you and to acknowledge his kindness. 'You are a hero to many,' he wrote.
The post went viral with many praising the driver's charming act of kindness. One user opined that the world would be a wonderful place if most people 'were this altruistic.'
Many users commented that the driver was their hero.
Guelph Transit took notice of their incredible kind employee and thanked him for his actions in a Twitter post. They thanked the local resident for sharing the story and added that they were proud of their operator.
Please fill in your e-mail so we can share with you our top stories!