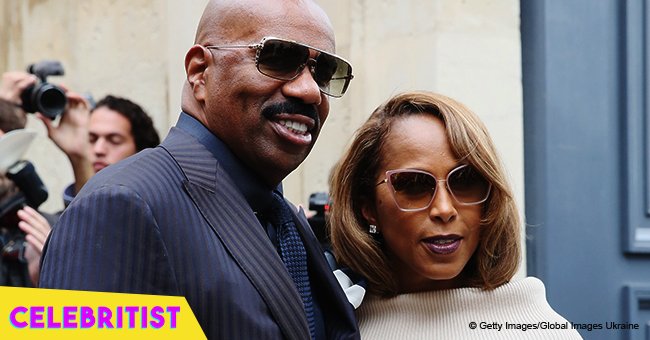 Marjorie Harvey's 4-year-old granddaughter is her exact copy in new photos
Marjorie Harvey, who has been married to host and producer Steve Harvey since 2007, shared several photos of one of her grandchildren on her Instagram account.
The first image of the slideshow portrayed Rose, who is the daughter of Jason Harvey and her wife Amanda, wearing a black and yellow bathrobe while brushing her teeth on the family's bathroom.
In the following image, Marjorie was holding the girl on her lap while Rose, who seemed to be a couple of months younger than now, was holding a couple of cookies. The rest of the photos showed special moments Marjorie and her granddaughter spent throughout her 4 years of age.
The final ones showed Rose having a great time at her birthday party. She was portrayed playing with a rope and balloons.
For the caption, Marjorie wished Rose a happy 4th birthday. She finished her message by writing: 'Whose [sic] Baby? Nana's Baby!'
As soon as Marjorie uploaded that slideshow, her fans and followers took to the comment section to share their birthday wishes. One of them was Instagram user Denise Rachel, who confessed that Rose was 'absolutely gorgeous' before wishing her a happy birthday.
As Celebritist previously reported, Marjorie surprised many followers more than a month ago when she uploaded a video that set clear that Jason and Amanda were expecting their third child.
Apart from that, she made sure that everybody knew the baby's gender by uploading the video of the gender-revelation surprise her son and daughter-in-law prepared for her.
In the recording, the proud grandmother popped a black balloon that set free small blue pieces of paper, revealing that the baby would be a boy.
Jason and Amanda have two children so far, Rose and Noah. The third one, whose name and due date have not been revealed yet, will be Steve and Marjorie's fifth grandchild.
The truth is that the upcoming baby will be welcomed with tons of love as the 53-year-old woman does her best to spend as much time with her grandchildren as possible.
Most of the photos on her Instagram account prove it as she is always next to the kids flashing a big smile.
Please fill in your e-mail so we can share with you our top stories!