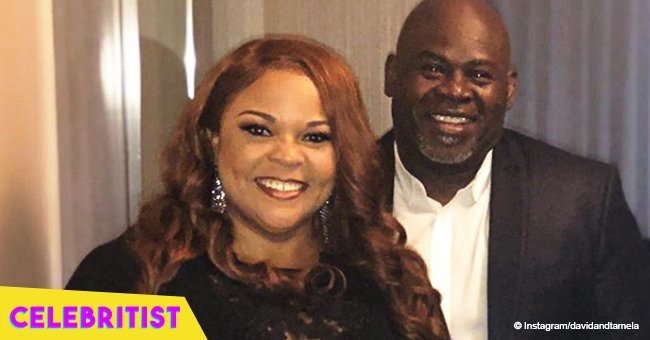 David and Tamela Mann share photo of all their grown up children from their daughter's wedding
Gospel singers David and Tamela Mann, who have been married since 1988, took to their shared Instagram account to post a photo of their five grown-up children.
The picture was taken during LaPorcia's wedding, one of the singers' daughter. It showed the bride with her gorgeous white dress next to her siblings.
LaPorcia's gown had a high neckline in a semi-sheer design that was also used on its long sleeves. The bottom part was tight and in enhanced the woman's physique. All three sisters, Tiffany, Sonya, and LaTia, wore black dresses, while her brother, David Jr. put on a navy suit.
In the caption, David and Tamela tagged all their children and pointed out that they were good looking.
As soon as the couple uploaded that image, their friends and followers took to the comment section to share their thoughts. One of them was Instagram user @cnixon11331, who praised LaPorcia's wedding dress and added that the bride looked nice.
Carlene Anderson Gold, another user, pointed out that David and Tamela had lovely daughters and a handsome son.
LaPorcia has been blogging about the wedding and several aspects surrounding it. She confessed that they took premarital counseling, they addressed any issues they had with each other, and they prayed together.
Throughout the days before the wedding, LaPorcia wrote the way she felt in a journal, an activity that made her understand wedding ceremonies in a different way. She wrote three aspects on her blog as a way to advise her audience.
The first thing she said was that people should try their best to keep things simple and avoid buying expensive things just to impress the guests as the ceremony only lasts one day and the couple has to live after that day.
LaPorcia's second advice was to understand that somebody would always be unhappy for whatever reason. Brides and grooms should do what would please one another and stop thinking about others.
The third thing she said was that people should not rush but live the moment as any single detail of the wedding would make people miss the 'little things' that really matter.
Please fill in your e-mail so we can share with you our top stories!