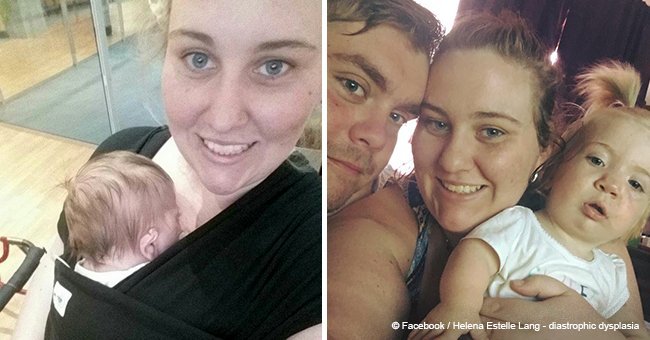 Baby born with rare dwarfism given little chance of survival but she hasn't let that stop her
Six-foot-tall parents, Jamie Jenkins and Jacob Lang, were happy to start their family but their baby was born with diastrophic dysplasia, a rare form of dwarfism.
A
Facebook
page for Helene Estelle Lang chronicles the journey for the young one who will celebrate her third birthday on July 15, 2018.
When Jamie finally got pregnant, the couple was ecstatic. Things were looking great for them, and the pregnancy started out on a happy note.
However, after an ultrasound during the 16th week of her pregnancy, Jamie and Jacob learned something completely unexpected. The doctors told them that the baby was far too small for a 16-week-old fetus, the baby was afflicted by dwarfism.
The two were devastated. They could not have imagined that their child would have diastrophic dysplasia, a rare form of dwarfism.
It is a disorder that affects the development of the bones and the cartilage. The six-foot-tall parents both carried a gene for the condition which gave them a 25percent chance of any of their children being born with dwarfism
At 34 weeks, doctors had adviced them to terminate the pregnancy because the baby did not have any lung tissue. But Jamie and Jacob decided against it.
The mother said, "I could feel her kicking and we'd ready named her; there was no way I couldn't give her a chance at life."
The couple gave birth to their bundle of joy on July 15, 2015, and named her Helena. She was kept in the NICU for three months, during which time they lost her three times, although she was revived successfully.
The two said their final goodbyes and waited for the call telling them she was no more. Fortunately, the call never came and Helena proved that she was a fighter.
Finally, their baby had stabilized and was allowed to go home. The parents knew that it was not the end.
Helena continued to visit the hospital regularly for checkups. Doctors told the family that while her organs were growing at an average rate, her body was not growing enough to accommodate them.
Doctors in Australia could not help her when her heart and major vessels were strangling her airway with scoliosis complicating the matters by compressing her neck.
In October 2016, the family flew to Delaware, United States, to seek help from the doctors who specialize in diastrophic dysplasia.
She was diagnosed to have moderate to severe. The doctors, however, were happy with her progress and decided she did not need a major surgery to move the blood vessels at the time.
She returned to Australia and was treated for febrile convulsions and respiratory distress and later for croup. She received a hearing aid and started the play school in 2017.
The family shares regular updates about her health on Facebook. Young Helena has been through many ups and downs in her life so far but has bravely fought her battles with her parents by her side.
Though she still has many surgeries scheduled and her condition won't allow her to grow more than a few feet tall, she has given her parents and everyone around her plenty of reasons to smile.
Read more on our Twitter account @amomama_usa.
Please fill in your e-mail so we can share with you our top stories!