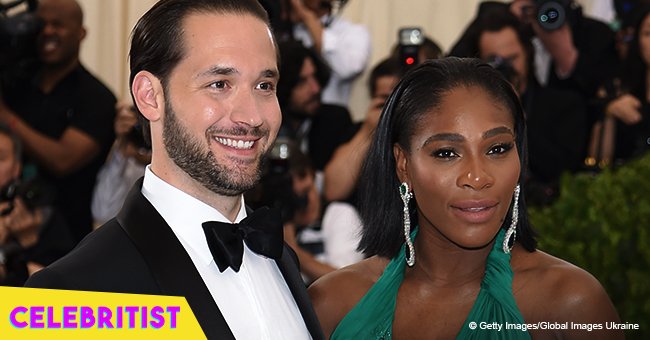 Serena Williams' 9-month-old daughter rides on her dad's shoulders in recent picture
Serena Williams' 9-month-old daughter Olympia rides her dad's shoulders in a recent photo posted on her Instagram account, and the father-and-daughter duo look extremely adorable while at it.
Olympia Ohanian might only be 9-months-old, but she has been seeing the world one city at a time with her mom and dad. Now that Serena Williams is taking yet another break from Tennis, she has been spending most of her time with family. The trio did some sightseeing in France prior to heading back home to America, and the father-and-daughter duo shared some of their precious moments with their followers on Instagram.
While visiting Les Étoiles de Mougins, Alexis made sure to let his beautiful daughter soak up the scenery in front of them by lifting her up on his shoulders. Little Olympia looked happy as she sat on her dad's shoulders, while they both observed the scenery surrounding them.
The family of three toured France after Serena's quick stint at the French Open. Williams' French Open comeback was cut short after she had to pull out from any further matches due to an injury. The 23-time Grand Slam winner was set to return to Tennis after giving birth to Olympia, but she had issues with her pectoral muscle that gave her a hard time serving. This injury made her pull out from the tournament just prior to her game with Tennis-rival Maria Sharapova.
According to a previous report by BBC, Williams claimed she first felt a problem with her arm during her third-round win over 11th seed Julia Gorges. She tried playing a doubles match with her sister Venus the day after, trying to manage the problem prior to her match with Sharapova.
"I tried lots of taping and support to see how it felt in match circumstances. It is hard to play when I can't physically serve. I've never had this injury before, I've never felt it in my life and it was so painful. I don't know how to manage it."
Sharapova and Williams have had quite a bitter rivalry on court since first meeting in 2003, but despite this, Serena has won 19 of their 21 meetings. The only two wins of Sharapova were from 2004, including that year's Wimbledon final.
Please fill in your e-mail so we can share with you our top stories!