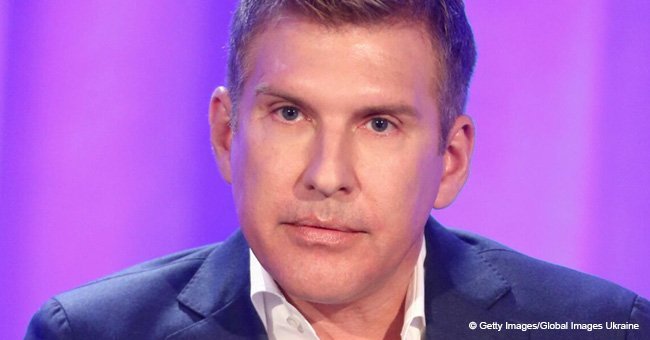 Here's what Todd Chrisley said about son's long time girlfriend after recent split
Fans of the reality star have seen his straightforward approach to life on his television show, and he demonstrated that quality again when speaking about his son's ex-girlfriend.
In an episode of Chrisley Knows Best that aired in May, Todd Chrisley had an honest conversation with his son, Chase Chrisley, who at the time had just broken up with his girlfriend, Brooke Noury.
Although Chase never disclosed any details about his relationship with Noury, photos on her Instagram suggest that the pair had dated from March 2017 to February 2018.
21-year-old Chase had revealed on the reality show that he and Noury had decided to call it quits. Following the break-up, Chase drove to his parents' house to break the news to him
When he approached his father to deliver him the news, he may not have expected Chrisley's response.
Chrisley calmly revealed that he had already figured out what was going on with Chase's relationship because he had been 'stalking' Chase's social media accounts.
Todd did try to pry about the cause of the break-up, his son just said that it hadn't worked out, and shared that he had gone through his grieving period, which included three days in bed and watching The Notebook.
Chase lamented to his sister, Savannah Chrisley, that he had hoped for a little privacy from the family after his breakup, and told her that he felt uncomfortable talking to his father about what was going on in his private life.
When Chase opened up to his mother, Julie Chrisley, about feeling hurt, she consoled him and acknowledged his pain. She told her son that his feelings were natural as he had been heavily invested in the relationship.
Todd, meanwhile, spoke to the cameras directly and explained that while he didn't want to hurt his son or speak badly about Noury, he was glad to hear that their relationship was over.
He disclosed that neither he nor his family had liked Nourey. He found great comfort in the fact that Chase was no longer seeing her. The family joined forces to find Chase a new girlfriend and took him to a Japanese restaurant.
The dinner turned out to be awkward and when he realized what his family was up to, Chase decided to walk away from the situation telling his family that he was capable of finding a partner for himself.
Shortly after that episode, Noury took to Instagram with another image that seemed to indicate the pair had rekindled their romance again.
She captioned the image: "I have one thoughtful lover. Get you someone who spends as much money on flowers as I spend on rent."
The image shows a large bunch of red roses, along with her and Chase's feet, who she has tagged in the shot.
Please fill in your e-mail so we can share with you our top stories!