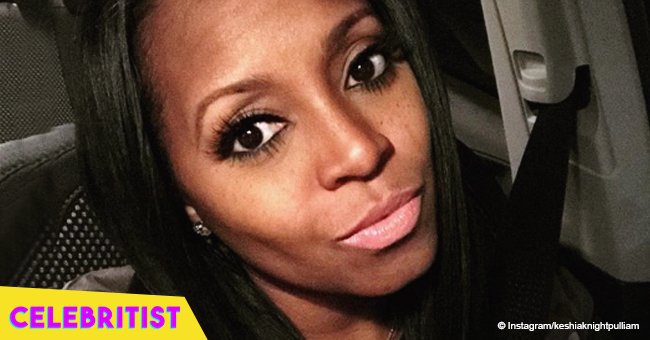 Keshia Knight-Pulliam shares never-seen-before throwback pic of daughter after messy custody battle
Keshia Knight-Pulliam shares a rare throwback photo of her daughter as a newborn child after a messy custody battle with her ex-husband Edgerton Hartwell.
According to TMZ, Keshia Knight-Pulliam was awarded full custody of her one-year-old daughter Ella. Since then, the proud mother has been reminiscing her daughter's infant days, saying how she grew up so fast.
Now that Pulliam was granted full custody, her ex-husband Edgerton was ordered by the courts to pay$3007 dollars a month in child support.
Hartwell filed for divorce in 2016 when Keshia was only four months pregnant. Their separation sprung from his assumption that the baby his wife was carrying was not his. The "The Cosby Show" veteran set the record straight with Entertainment Tonight shortly after the claims were made.
"I have never cheated on him during my marriage. This is his daughter."
A paternity test proved that Hartwell was the biological father of the child, and it was later discovered that he was actually being unfaithful to his wife by dating his ex-fiance Tonya Carroll over the course of his six-month marriage to Keshia.
After being fiercely private of her daughter Ella Grace Hartwell after she gave birth, Keshia has not been sharing much of her daughter's face on social media. Posts that did feature the toddler would often include her toes, hair, or some sweet bonding moments, but rarely does she show her daughter's face.
However, it seems now that her daughter has turned one, the doting mother made sure to share a throwback photo of the baby girl when she was still a newborn. In the photo, Ella Grace could be seen napping nice and comfortable wrapped up in a blanket.
"It's almost hard to believe my munchkin was this little. She's a big girl now!! #Tbt #MyFavoriteGirl"
Ella celebrated her first birthday in January 2018, and Pulliam has shared numerous times how motherhood changed her life.
"I am so eternally grateful for my little Ella. I would not trade any of what I have gone thru for her. She is my greatest accomplishment & joy. She has inspired my smile even thru the tears. I am so proud she has chosen me to be her mommy... #Grateful #ThereIsAlwaysARainbowAfterTheStorm #IfICanDoItSoCanYou."
Now that the mother-and-daughter duo are living alone, the bond they share will definitely grow closer now that Keshia is raising her as a single mom.
Please fill in your e-mail so we can share with you our top stories!