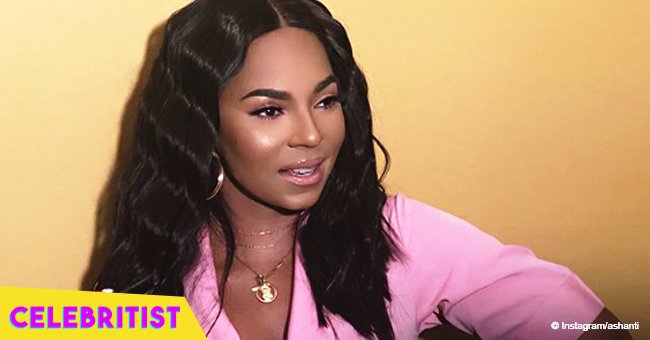 Ashanti warms hearts in throwback photo with dad, 'looking like Blue Ivy'
Ashanti shares a beautiful Father's Day tribute to her dad, but what people noticed was her striking resemblance to Blue Ivy and Beyonce.
Despite Ashanti being all grown-up, she made sure not to forget to greet her father, Ken-Kaide Thomas Douglas, a very Happy Father's Day, describing her father in a sweet and loving way on Instagram. While her touching message was enough to get her fans and followers' attention, it was the throwback photo in which she sat beside her dad that made the fans hit the comment section.
In the photo, a little Ashanti could be seen sitting in front of her dad sporting a striped headband which covered her curly hair. Fans were quick to notice the resemblance that she shared Beyonce's eldest daughter, Blue Ivy.
When fans swipe left on the photo, more memorable moments between the father and daughter could be seen, with adorable photos from when Ashanti was growing up. In one particular photo where she and his dad sported matching red fluffy headbands, she shared a striking resemblance with Beyonce this time, which made some fans flock to the comment section to share their observations as well.
"Happy Fathers Day To the most hilarious Man on planet earth!!! Thanku for being an Amazing dad!! And for everything you do! Love you!! Please peep his dance moves in his car wash gear all the way till the end!! @ruleyorkcity he said holla at him if u need back up! Happy Father's Day to All the Amazing Dads out there!!"
While Ashanti's family shys away from the spotlight, she inherited her love for music from her dad, who was once a singer too. After working as Ashanti's road manager for a while, he left the entertainment industry for a more steady and lucrative job as a computer systems administrator. Her mother, Tina Douglas, was also inclined to the arts, being a dance teacher when her children were still younger. When she noticed her daughter's fantastic singing skills, she worked hard to get her discovered, eventually becoming her manager in the process.
Now that Ashanti is a successful artist, her parents have been living quiet and peaceful lives away from the spotlight. After working hard to get their daughter to where she is now, it seems it is finally their daughter's turn to share with them the fruits of their labor all these years by giving them the best lives possible.
Please fill in your e-mail so we can share with you our top stories!