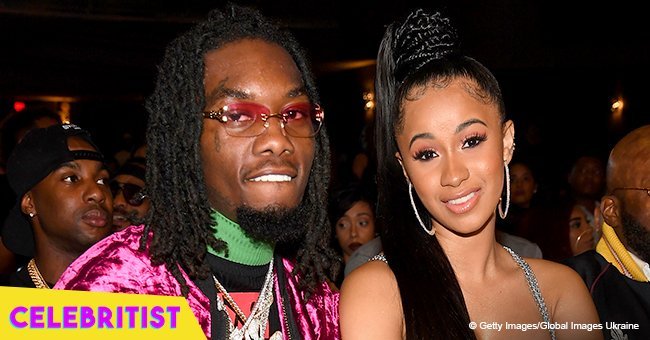 Cardi B confirms secret marriage to Offset

After Offset dropped some major news regarding his relationship with Cardi B during the BET Awards last Sunday, proof has emerged that the two rappers have indeed gotten married in a secret ceremony.
Offset received an award at the BET Awards together with the rest of Migos for "Best Group", and when it was his turn to speak, he surprisingly thanked his wife, much to the surprise of fans and viewers alike.
"Thank God, I thank my wife, you should thank yours."
After the intriguing thank you speech by the rapper, reports by TMZ have confirmed that Offset and Cardi B have indeed gotten married in a secret ceremony in September, and have been married for nine months. The site was able to obtain the marriage certificate between Kiari Kendrell Cephus and Belcalis Marlenis Almanzar, or Offset and Cardi B respectively.
The civil wedding happened in their bedroom in Atlanta, Georgia, and the only witness aside from the officiant was Cardi B's cousin. While the two seemed to have gotten married privately, Offset gave Cardi an 8-carat diamond ring a month after they got married, which people thought was an engagement ring after he publicly proposed to her on-stage. While it might be one, TMZ shared insider news that it was actually Offset keeping his promise to Cardi about getting her a ring.
As for why Offset seems to not be wearing a wedding ring, the outlet also shares that he'll get one once they have an official wedding ceremony, which their sources say will happen once Cardi gives birth to the couple's first child.
Opening about their spur-of-the-moment wedding, Cardi shares details with fans and followers on her Twitter account.
The secret marriage sheds some light on their big public engagement, which only time can tell whether or not it was all for show, or it signified a bigger and grander wedding for the lovely married couple. For now, what can be proven is the fact that they both married in a bedroom ceremony back in 2017.
"I said I do, with no dress no make up and no ring! I appreciate and love my husband so much for still wanting for me to have that special moment that every girl dreams of when he got down on his knee and put a ring on my finger and he did that for me!!"
Amid their marriage revelations, Cardi is currently heavily pregnant with their daughter. She has taken a break from the entertainment industry since learning she was pregnant, and is set to return once she has given birth.
Please fill in your e-mail so we can share with you our top stories!