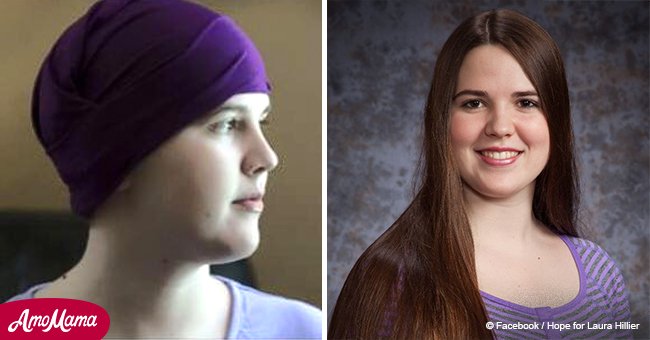 Friends write a touching goodbye on teen's coffin after she tragically died from leukemia

Laura Hillier's friends and family paid a tribute to her during her funeral by writing messages of love on her coffin.
Her death on January 16, 2016, at the age of 18 shook her loved ones, as reported by Inspiring NTD.
Laura had been suffering from acute myeloid leukemia since she was 13 years old. She underwent aggressive treatment and was free of cancer for four years.
The cancer eventually returned and took away her life. She was to undergo a stem cell therapy after a donor was found, but the procedure didn't happen because of a shortage of hospital beds. Her health rapidly deteriorated while waiting for her turn to get the experimental treatment.
Acute myeloid leukemia is a type of cancer in which the bone marrow makes abnormal myeloblasts, red blood cells, or platelets, according to the National Cancer Institute.
Follow us on Twitter @amomama_usa.
'She fought bravely and all of you would have been so proud of her. Her poise, her courage, her strength and her pure spirit shone through right until the end,' her parents wrote on the Facebook page, Hope for Laura Hillier.
The Facebook page has been liked by more than 4,000 people.
Laura didn't reach her high school graduation so her family and friends decided to do something that they know Laura would appreciate. They turned her white casket into a yearbook.
Each of his friends wrote their messages of love and goodbye on the casket, using colored markers. Soon enough, colorful messages covered her casket.
As reported by Providr, Laura helped raised awareness of leukemia and helped effect change at her hospital, the Juravinski Hospital in Hamilton.
Partly because of her case, funding has increased for the hospital, helping raise the number of transplants from 47 to 60. The hospital was also able to hire a full-time cancer specialist and increase its bed capacity to reduce waiting periods for cancer patients.
Please fill in your e-mail so we can share with you our top stories!