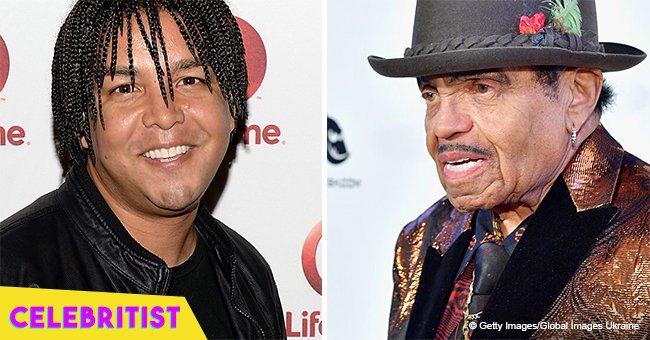 Joe Jackson's grandson Taj blasts critics after sharing touching tribute to grandfather
Singer and songwriter Taj Jackson, one of Joe Jackson's grandchildren, took to Twitter to defend his late grandfather admitting that things are not the way the press says.
On June 27, the proud grandson shared a message that served both as a tribute to Joe and as an attack on those people who blame 'The Hawk' and didn't even know him.
Taj's tweet set clear that he was disgusted by a couple of comments that he had been reading about Joe written by people who never met him. He asked them not to 'regurgitate' what they were 'spoon fed by the press.'
He added that the entire Jackson family loved Joe, that their hearts were in pain, and even urged people to let them grieve without all the 'nastiness.'
Later that day, Taj uploaded a photo on his Instagram account that showed him next to Joe and Thayana Sco Jackson, another member of the worldwide famous family.
It was a black and white image showing Taj wearing blue jeans and a sweater, Joe put on pants, a leather jacket, and his usual hat, and Thayana chose a sleeveless shirt and shorts.
For the caption, Taj thanked Joe for his strength, determination, and pride, and pointed out that the Jackson legacy would not have existed without him.
As Celebritist previously reported, the person who was next to Joe most of the time during his final days at the hospital was Joh'Vonnie Jackson, one of his children.
She uploaded a photo to her Instagram account showing her and Joe's hands holding each other over a red blanket. In the caption she revealed that Joe passed away at 2:55 am.
Joh'Vonnie clarified that he never had a moment alone as she always watched over him only 'breaking away' to do some things at her house.
She revealed that Joe's strength was unmeasurable and that she felt glad for being able to hold his father's hand and kiss his face when he started his 'transition.'
Joe is survived by his wife Katherine Scruse, nine children, and more than two dozen grandchildren.
Please fill in your e-mail so we can share with you our top stories!