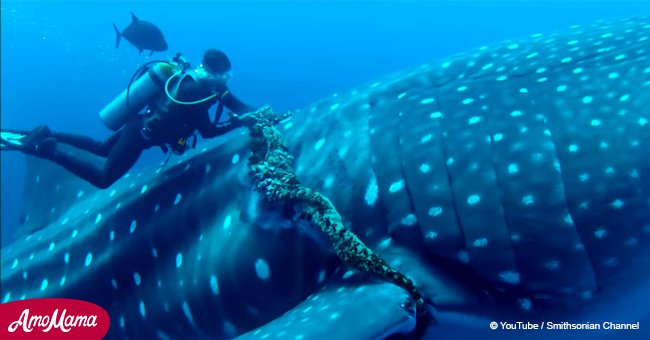 Amazing moment diver rescued huge whale shark from fishing rope (video)
When the diver spotted a whale shark with a rope tied around it, he immediately sprang into action.
Posted to YouTube on February 4, 2016, the footage shows the moment a diver rescued the whale shark from a commercial fishing line. The giant fish was swimming in waters off Socorro Island, near the Mexican coast.
In the video, the whale shark is seen struggling with a rope tied around it that was tortuously slicing it into two. Knowing the rope would be causing pain, one diver approached the whale shark slowly.
The giant fish appeared to sense that he was there to help and it seemed to cooperate. While cutting the rope, it lay utterly still. It took thirty seconds for the heroic diver to cut the whale shark free.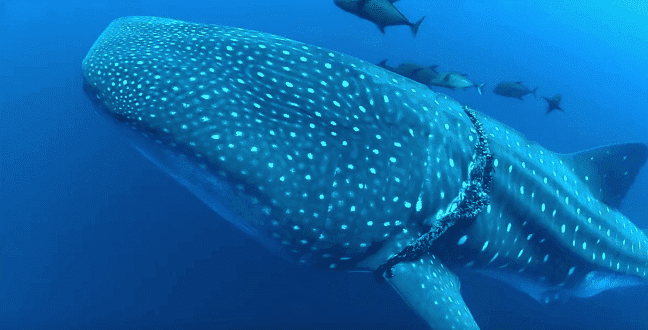 Source: YouTube / Smithsonian Channel
Follow us on Twitter @amomama_usa.
The breathtaking moment was filmed as part of the nature series, Secrets of Shark Island. The series was being screened on the Smithsonian Channel, Daily Mail reported.
The diver's heroic act was praised by netizens. YouTube user Dagmar Erne wrote: "Dear divers. Thank you for showing the best in human beings - for taking responsibility and taking care for creatures. "
"Thank you for helping the whale! It makes me soooo glad to see that someone cares and to think of all the pain you saved this beautiful animal from!" NORTH Line added.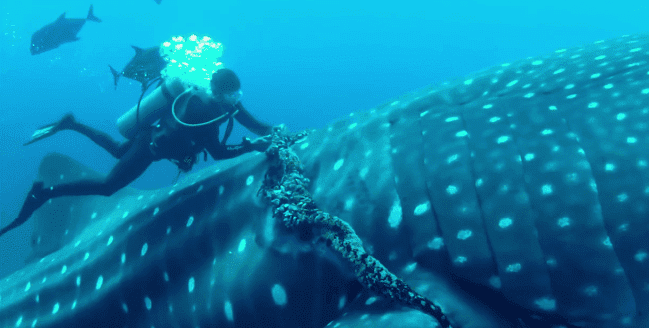 Source: YouTube / Smithsonian Channel
"Congratulations to the team for the good work! It's so sad that irresponsible people spread things like that in the oceans! How much suffering this whale shark must have been through for years!" commented Estocolmo Hamilton.
According to Daily Mail, whale sharks are the largest living fish on the planet because they are estimated to live over 70 years old.
They are the most massive known extant fish species as well.
The whale sharks are usually found in open waters of the tropical oceans. They are named "whale shark" because of its size, being as big as some species of whales.
Please fill in your e-mail so we can share with you our top stories!