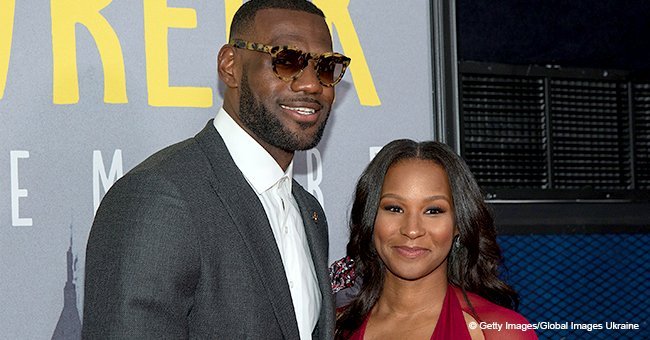 LeBron James' wife steals hearts with photo of husband and daughter in white swimsuit

Savannah James is a proud wife and mother, and she recently shared with fans a beautiful photo of LeBron James and their youngest daughter enjoying the beach together. Zhuri Nova is the princess of the James' household, and her father is completely whipped for her.
LeBron and Savannah are high school sweethearts. They married in 2013 and had three beautiful children: Lebron Jr, Bryce Maximus, and Zhuri Nova. The three-year-old girl is continuously featured on her mother's Instagram account, and she melts fans hearts with her cute personality just as much as she melts her famous father.
In a recent pic shared by Savannah, the father-daughter duo is enjoying a summer day at the beach as they stand in front of the water. While Zhuri watches the beautiful aquamarine ocean, wearing a cure white bathing suit, LeBron, in return, is watching her
Even though his face is not pictured, we can tell the baller had his fond look on, the one he always has when it comes to his princess.
The girl is undoubtedly the most spoiled in their household, not only for being the youngest but for being the only girl.
A few months ago, LeBron melted hearts when he was recorded having a moment with his daughter in one of his games. Zhuri asked for some candy, and even though LeBron was in the middle of a game, he didn't rest until he found some sweets to give to his little girl.
Savannah also shared a video of Zhuri impersonating her father, and fans were amazed at how talented the girl is for her age, even mentioning that she could have a future in the entertainment industry because of her bright personality.
While her brothers are interested in basketball, like their father, Zhuri loves to dance around. But she also loves to annoy her father in the cutest way. On February, Savannah shared a hilarious pic of the girl putting her foot on her father's face as he remained unfazed about it. She wrote in the caption:
"When you can just do whatever because you're the baby and Daddy's princess... #SheCanDoNoWrongLetHimTellIt #HisFaceTho #InDeFace #ZhuriNova #GrammerPoliceGotMe"
LeBron and Savannah have the cutest family, and we're glad we get to see some of their most special moment's thanks to social media.
Please fill in your e-mail so we can share with you our top stories!