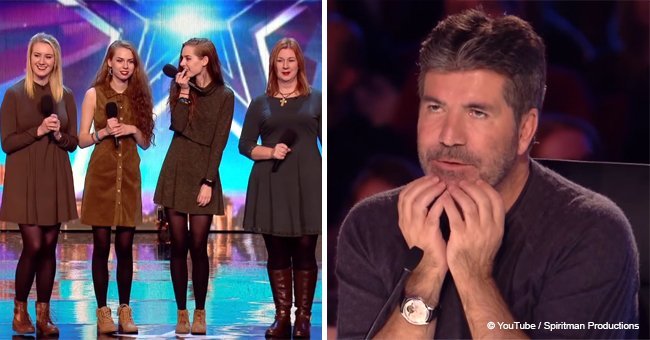 Mom and three daughters amaze audience with their flawless harmony
The Garnett Family stunned the Britain's Got Talent judges and the crowd with their stellar performance.
In 2016, Helen and her daughters, Rachel and twins Anna and Abi received a standing ovation with their version of Jess Glynne's Take Me Home. They were in perfect harmony.
The judges immediately called their performance "stunning," "mesmerizing," and "brilliant."
The family told the judges that though they have been singing together for quite a long time, that was their first ever performance in front of a crowd.
The judges were so impressed with what they heard. They scored The Garnett Family four yeses through to the next round.
One of the judges, David Walliams, said: "There is something special about a family group, the blend of voices was absolutely beautiful."
"Can I be honest with you?" Judge Simon Cowell said. "I'm thinking, 'I don't know why you, mum, are in the group.'"
After a dramatic pause, Cowell then added that he only realized why Helen was in the group when she started to sing.
As it turns out, Helen was not supposed to be part of the group. Her daughters originally auditioned as a trio. But when Rachel, Anna, and Abi told the judges about their background in gospel music, the judges responded that's what they wanted to hear.
However, the girls only sings gospel with their mother, and that was the reason Helen was there, singing her heart out in front of a national audience.
"I was just there to act as their chaperone, really, and I never imagined anything like this would happen," Helen recounted. "The girls said at the audition their background was in gospel music and, at the end, the judges said it was fantastic but they would love to hear some gospel."
"The girls said they only ever sung gospel with their mum so they asked me to come on stage and sing with them," she added.
Please fill in your e-mail so we can share with you our top stories!