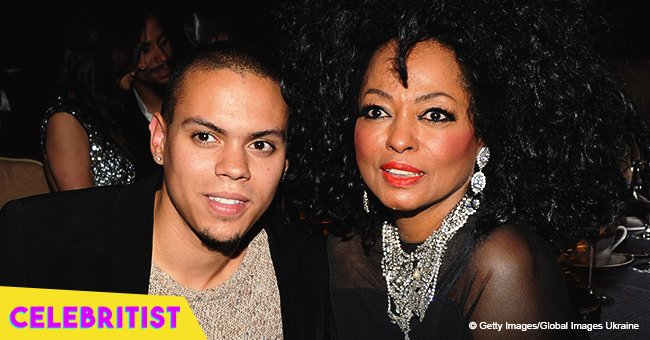 Diana Ross' granddaughter's mean mug in new photo looking just like her father Evan
According to her famous parents, she has a larger than life personality for her tiny size, and another social media photo of her seems to corroborate that.
Evan Ross and Ashlee Simpson's 2-year-old daughter Jagger Ross has already become quite the charismatic little charmer despite her age. The couple regularly share updates on the sweet little girl to their social media accounts.
One photo shared by Evan particularly highlighted the level of sassy attitude she has in her small body, and fans absolutely loved it.
In the image, it appears as if little Jagger is pulling a face to demonstrate that she is severely unimpressed with something going on around her, although Evan didn't clarify what had her all bent out of shape.
The actor and musician simply captioned the post: "Just like Daddy!!" with a heart emoji.
Within just a few hours, the post already had over 8,000 likes, and plenty of comments confirming just how adorable Evan's fans think she is.
The tot appeared to be wearing a plain white t-shirt, and a large wide-brimmed hat on her messy brown locks.
Appearing on the red carpet at the American Music Awards in November 2017, Simpson and Evans shared that even though Jagger is just 2 years old, she is already putting on singing shows for the family at home on a daily basis.
When asked if they would be comfortable with their children getting into the music industry, Simpson pointed out that it was unlikely she would have a say in the matter when it came to Jagger.
With a famous grandmother in the form of Diana Ross - who Jagger fondly calls her "ami" - and a famous aunt in Evan's sister Tracee Ellis Ross, the precious little girl is certainly not short on inspiration from the entertainment industry.
Simpson also shared that Jagger loves going to her grandmother's concerts, and was even taken to one by Tracee recently.
The little girl was as eager to dazzle as Diana did on stage, and chose to wear a pink sequined dress with a fluffy pink jacket out it for the occasion.
"[Jagger]'s a little star already though. It's crazy. She's a star," Evan said of his daughter. "She's into her 'Ami'. She wants the sparkles and the microphone!"
Please fill in your e-mail so we can share with you our top stories!