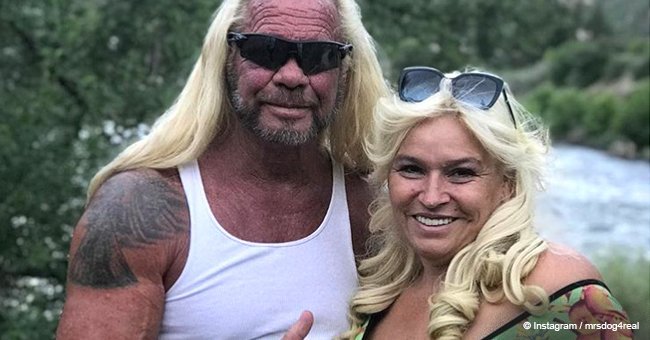 Beth Chapman shared weird photo of husband 'Dog the Bounty Hunter'
Beth Chapman reveals her zany sense of humor on an Instagram post sharing a picture of husband, Duane, using a funny filter.
Duane "Dog the Bounty Hunter" Chapman and Beth have a very special relationship, and it has been a delight to their fans who have been following them for years.
Beth, 50, recently posted a delicious pic she snapped of her husband on Instagram, and it has their fans in stitches. Read more on our Twitter account @amomama_usa.
Beth photographed "Dog" with the cute Snapchat dog filter — and she posted it on Instagram in secret, without Dog knowing.
"ROTFLOL shhhh nobody tell him... posting for a friend"
Beth Chapman, Instagram, 3 July 2018.
In the photo, "Dog" is wearing his wife's sunglasses, and his shirt is unbuttoned showing a glimpse of the tattoo over his heart which reads "Beth".
The fans reacted by commenting "Looks like the lion [from] The Wizard of Oz," and "LOL Beth [you're] bad but funny."
Beth and "Dog" became famous when they starred on a reality TV series Dog the Bounty Hunter, which ran on A&E for eight seasons. They went on to star in a spin-off series called Dog and Beth: On the Hunt.
Then in 2017, Beth was diagnosed with cancer, underwent surgery, and fortunately recovered. The couple shot a TV special titled "Dog and Beth: Fight Of Their Lives," which gave viewers an inside look into Beth's stage 2 throat cancer diagnosis and treatment.
It was during that special that viewers were able to really see how much "Dog" loves his sweet wife, and how loving and supportive he was throughout her harrowing ordeal.
Since her recovery, Beth has taken a special pleasure in her time with her husband and family and has demonstrated a renewed zest for life.
In May 2018, she posted another photo of "Dog" captioned: "We made it through another tough year."
Please fill in your e-mail so we can share with you our top stories!