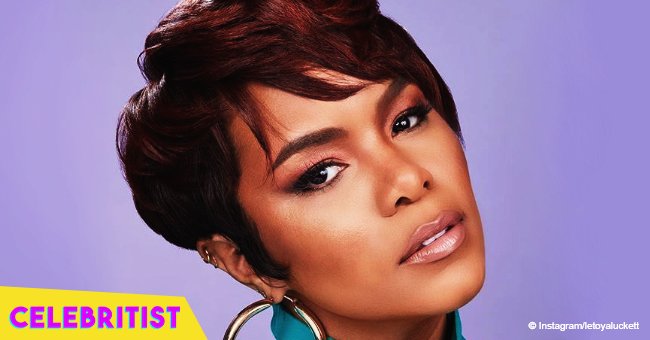 Letoya Luckett is a proud mom-to-be flaunting baby bump in animal-print dress

LeToya Luckett is dancing with joy in her latest video showcasing her baby bump. The singer who just revealed her pregnancy last month fashioned in a tight-fitting dress giving clues to how far along she is.
Pregnant LeToya Luckett is filled with excitement over becoming a first-time mom. After creatively announcing her pregnancy, she shimmied in a tight-fitting animal-print dress showcasing her maternal curves.
The former 'Destiny's Child' singer shared a short clip a few days ago wearing a leopard-print skimpy mini dress with thin straps. She partly wore a black cardigan over it making sure to reveal her shoulders. She held on to her grown tummy while shaking her hips, clearly delighting in her current state.
"Happy Sunday!!", the 37-year-old wrote as a reflection of her feelings since announcing her pregnancy last month. She posted a video of her stepdaughter Madison who adorably delivered the good news.
"Hi, my name is Madison Walker, and I know something you don't know! I think I'll give you a hint. I'm going to sing you a song. Daddy and Ms. Toya sitting in a tree, K-I-S-S-I-N-G. Eww! First comes love, then comes marriage, then comes the baby!"
The 6-year-old is the daughter of LeToya's husband Tomicius Walker, who's also the father of the child she's carrying. The couple married in a lavish ceremony in Austin, Texas in December 2017.
Of her relationship with her husband, LeToya revealed "He gets Toya" in the March issue of Essence magazine. She explained,
"That's what I've always wanted. I'd say, God, whoever you have for me, I want him to see me. I want him to see my heart. I want him to see me crystal clear in his eyes the way. You see me in Yours. He sees me, and there's no better feeling."
On his part, Tomicius revealed he made a list of all the things he was looking for in a woman and found it in his wife.
"I specifically wrote down on paper all the things I was looking for. I wanted a helpmate, a teammate and also a soul mate. Those are the things I prayed for in a woman."
The couple has yet to announce their baby's due date and gender but they're definitely excited. LeToya told Page Six,
"Babies are a blessing, and we're excited to bring life & light into the world."
Please fill in your e-mail so we can share with you our top stories!