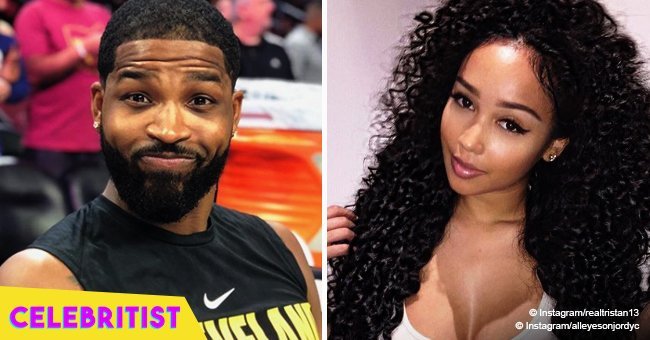 Tristan Thompson's 1st baby mama flaunts major curves in leopard two-piece in new photo
Jordan Craig took to Instagram to share a beautiful photo from her trip to Bali showing off her curves in the company of a friendly elephant. The mother of Prince is allegedly not happy with her baby daddy's recent move on social media.
Tristan Thompson has been pissing off women left and right with his cheater moves. Back in 2016, he started dating Khloé Kardashian while his baby mama, Jordan Craig, was pregnant with their child. And two months ago, he did it again when videos and pictures of him seeing other women came to light only two days before Khloé gave birth to their daughter, True.
At the time, Craig took to her Instagram stories to post a cryptic message that many people thought was aimed at Khloé and her sad situation. Jordan wrote on April 10, "If you respect yourself and you respect others, you would never make light of the misfortune of anyone, nor would you feel indemnified when it comes at the expense of others. Wishing peace for everyone."
Is clear that the model didn't take the bait many of her followers gave her by trying to make her claim victory and say "I told you so" to Khloé. Instead, Jordan has been busy taking care of her cute 1-year-old son, Prince, and traveling around the world promoting her clothing line.
In a recent picture posted to her Instagram account to promote her first closet video haul, Jordan looks fantastic wearing a leopard print two-piece outfit that put her toned legs, cleavage, and midriff on display. The 26-years-old posed next to a cute elephant touching its trunk.
While Jordan seems to be happy and enjoying life, the model is upset with her baby daddy for his latest move on social media, according to Hollywood Life.
A few days ago, Tristan posted a series of photos of his two kids together. Prince and baby True made the cutest family portrait resting on Tristan's lap as the baller smiled widely to the camera. In the epic shot, Prince is holding his half-sister's hand and laughing softly, and in another series of polaroid shots included in the slideshow, the boy is sweetly kissing True's cheek.
While Khloé Kardashian doesn't have any problem with posting pictures and videos of her daughter on social media, Jordan has been more careful and has kept his son's identity away from the spotlight, so it's only natural that she's upset about Tristan posting her son for his three million of followers to watch.
Jordan is not petty enough to stop Tristan from being an active part of his son's life, but she's not that happy about sharing Prince with Khloé because of all the media attention her family gets.
As a protective mother, Craig would prefer to keep her son away from the spotlight, and hopefully, Tristan will respect that in the future.
Please fill in your e-mail so we can share with you our top stories!