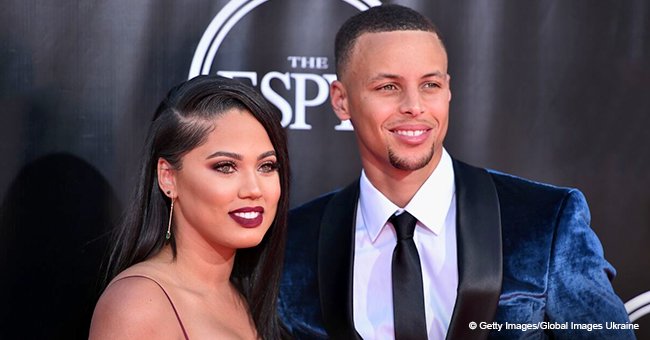 Ayesha Curry gives birth and reveals baby's name
Congratulations are in order for Steph and Ayesha Curry who just welcomed their first boy. The new mom posted an adorable announcement photo of her three children along with the big reveal of their baby's name.
Steph and Ayesha Curry are finally parents to a baby boy. The couple just welcomed their third child on July 2 with Ayesha announcing the news on her Instagram along with her baby's name.
"My heart is FULL. God has been too good to us," the mother-of-three wrote before revealing her first son's name and his unexpected delivery date.
"Our beautiful baby boy Canon W. Jack Curry 7/2/2018. He joined us earlier than we thought and we couldn't be more excited and grateful. Family of 5!"
Ayesha, 29, accompanied her announcement with a beautiful black-and-white photo of her two daughters, Riley, 5, and Ryan, 2, sharing a moment with their brand new baby brother. The older sibling held on to her sleeping brother who was snuggly wrapped in a blanket. An interesting fact about the three kids is that they all share the same birth month making July a special time for the family.
The new addition to the family is welcomed with high hopes as he could possibly join his father and grandfather in keeping up with the family tradition of basketball. Steph's father Dell Curry was a longtime NBA player while Steph is currently a two-time MVP
Ayesha first announced her third pregnancy in February revealing her surprise at finding out the news. She wore a "Preggers" t-shirt and wrote,
"Curry party of 5. Feeling very blessed…and very sick. Yippie! #curryfor 3"
It wasn't an easy pregnancy for the cookbook author who opened up about her bouts of morning sickness which also led to frequent hospital visits. Entering her third trimester, she revealed she was feeling better and could "finally eat and cook a little bit again."
The couple agreed to keep their baby's gender a surprise throughout Ayesha's pregnancy. Steph opened up to Ellen DeGeneres on her show that he was pressuring his wife not to try to find out even if the results were just on her phone.
"My wife, she wants to know. So we're right in the middle now. I haven't found out, she hasn't found out. We're kind of figuring out how long we're going to last."
It's unclear whether their baby's gender remained a surprise until his birth but now that baby Canon has arrived, we can expect more pleasant updates from his mother in the coming days. Congratulations to the Currys!
Please fill in your e-mail so we can share with you our top stories!