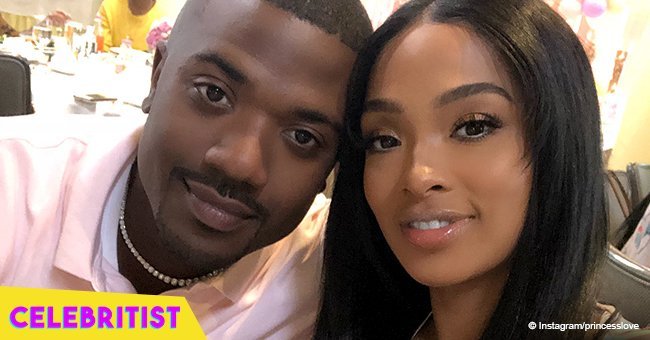 Ray J and Princess Love's newborn daughter steals hearts with frowning face in recent picture
The couple welcomed their new baby daughter two months ago and are currently on cloud nine with the adorable girl. Melody has been stealing hearts left and right, and she's already the main lead in two music videos.
Ray J and Princess Love's story has been filled with ups and downs. The VH1's "Love & Hip Hop: Hollywood" fans were able to witness the couple going through their best and their worst until they finally tied the knot in 2016 in front of 150 guests in a lavish ceremony at the Vibiana in Los Angeles.
They announced Princess' pregnancy six months after they got the news. It was Ray J who revealed they were having a baby on a visit to the daytime talk show "The Real," saying "Love is on my mind. Love is in my heart. Princess and I are expecting," surprising not only the hosts but also his and Princess' fans.
She later confirmed the news by posting a beautiful pic of her baby bump and explaining that it was "bad luck" to announce the pregnancy too early.
Now, after enjoying a lovely baby shower and a having an ethereal motherhood photo shoot, Princess Love is the proud mother of a healthy and hairy baby girl.
Melody was introduced to the world through a beautiful family portrait shared to Princess' Instagram, and a solo shot posted to her father's account, where the singer wrote a heartfelt message for the girl saying:
"Melody Love Norwood," the most beautiful girl in the World!!! I Never thought I would feel God move thru me like this!!! You are my heart and soul!! I will die 4 you! You are the true meaning of love! Your sooooo special I couldn't stop crying when you were born. I will be there 4 you every minute of the way. I will be the best Dad in history! Thank you, God, for giving me some1 to really live 4!"
Melody has been taking front and center on her parents' social media accounts, and fans couldn't be happier about watching the adorable girl's different expressions.
In a pic taken when she was only three days old, Melody was already pretty alert, smiling and poking her tongue out. She has also shown a frowny face in a black and white pic where she's resting on her mother's chest.
The beautiful baby girl has definitely brought her parents closer, and both Ray J and Princess Love have shared heartfelt messages to each other on social media expressing their love and gratitude. In her Father's Day congratulatory post, Princess Love wrote this for her husband:
"We've been through so much, and I've watched you grow into the man you've become today. Seeing you with our baby girl lets me know that she will always be loved and protected by you. Thank you for not only giving me the most precious gift but for being the best father and role model to Melody."
The singer, on the other hand, dedicated a lengthy Instagram post for the new mom after childbirth, saying:
"To watch you go thru all of this for us to have this beautiful Angel! I have so much more respect for u in so Many new ways- you have humbled me to the highest level- if I ever doubted you or didn't show it I am so so sorry! You are my heart and soul! I will always be there for you 4LIFE! And even in heaven!!! THANK YOU THANK YOU THANK YOU."
We're glad to see this couple enjoying their little family with so much happiness; we wish them all the best.
Please fill in your e-mail so we can share with you our top stories!