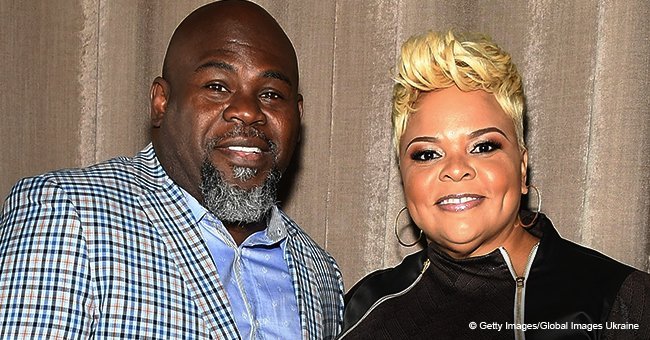 David and Tamela Mann grown up daughter looks just like mother in family photo

The actors are no strangers to the limelight and the cameras, and they recently presented their family to the world - including their youngest daughter - in their very own reality show.
David and Tamela Mann have spent plenty of time on camera before, but usually on the sets of movies. Now, with the launch of their reality show, The Manns, they'll be offering up something different on camera.
Their youngest daughter, 28-year-old Tia Mann, is also appearing on the show.
To honor Tia's recent birthday, the couple posted a photo of their daughter in their joint Instagram account on May 25, and their many followers wished her a happy birthday
"Happy 28th birthday to our silly baby girl @iamtiamann," the gospel singers and actors captioned the post.
In the image, they appear alongside Tia in an elegant night out. The three of them all decided to stick with the monchrome theme, with both Tia and Tamela wearing black dresses while David wore a black suit with a white shirt.
The photo also highlighted the resemblance between Tia and her mother, with the two sharing the same smile, nose, and eyes.
In a promotional video for TV One's The Manns, Tia was introduced to the public prior to the release of the show in April 2017, and she is presented as the family's "spoiled baby" with a flamboyant personality.
Members of the family are seen in the video talking about the youngest daughter, and they praise her for her tenacious spirit.
"She gonna ride or die, no matter what is going on," said her older brother, David Jr.
Tia's determination has been put to the test recently when she had to make the difficult decision to undergo a weight-loss surgery, but she finally decided that it was going to bring positive change, according to The Belle Report.
"I'm looking forward to being a much healthier person. I'm not saying that I'm not healthy now, but I'll be a little slimmer, a little healthier and won't have to worry about the knees hurting so bad," Tia said in The Manns' episode Slim Tilly.
The entire family was concerned about the risks that came along with the surgery because Tamela had gone through the same procedure and experienced plenty of complications.
Fortunately, Tia had decided that she needed to have an optimistic approach to it.
Please fill in your e-mail so we can share with you our top stories!