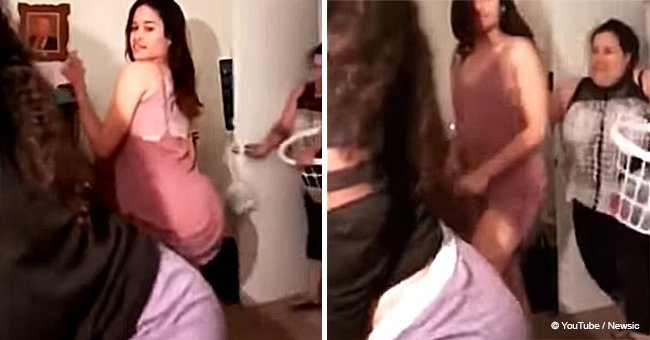 Furious mother smacks her girls after they do a sexy dance on camera

Video footage shows the funny moment an angry mother smacking her daughters after walking in on the two as they were twerking on camera.
In this YouTube video shared by Newsic on Jul 3, 2018, two girls can be seen trying to perfect their twerking in front of a webcam. However, their mother suddenly storms into the room and decides to teach them a lesson.
The clip starts with the girl, who wore eyeglasses, smiles at the camera. She also bites her lip and winks.
Then, with a tune playing in the background, the teenagers are seen trying to perfect the provocative dance move in front of a webcam. They both wore sexy outfits.
Follow us on Twitter @amomama_usa
Carrying a washing basket, their mother can be seen entering the room and immediately removes one of her slippers to give them a lesson.
The pair, believed to be Spanish, yelled out in shock when their mother smacked them across the back.
Using her hip, the irate mother then shoved over her daughter who was closest to the camera.
One of the girls can be seen attempting to escape the second smack as the video comes to an end.
While punishing them, the mother managed to keep hold of her plastic washing basket.
Though it's not clear where specifically the clip was filmed, a Spanish music can be heard playing in the background.
The video has gone viral online with many netizens appearing to side with the furious mother.
According to Daily Mail, the mother's 'multi-tasking' was praised online. One person commented: "I love that she didn't even put down the laundry."
"Bah hahahahahaha!! You go mum. So refreshing to see a parent with a backbone. A parent who's more interested in being a mother than she is in being a best friend! " wrote YouTube user Kould B.
Please fill in your e-mail so we can share with you our top stories!