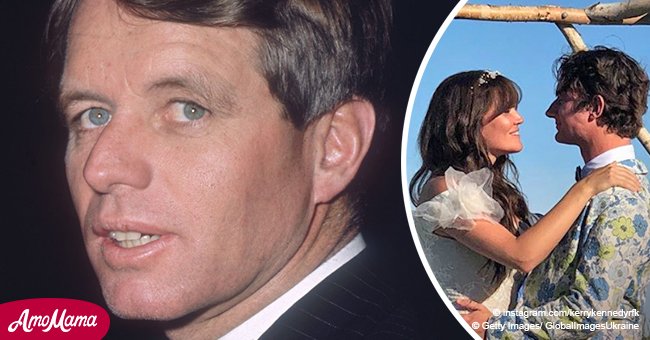 Robert F. Kennedy's lookalike grandson marries former CIA officer
The 33-year-old lawyer and politician, Robert Francis Kennedy III, exchanged wedding vows over the weekend in Massachusetts. His wife, Amaryllis Fox, is a former CIA officer.
Various members of the Kennedy family attended the extravagant wedding and shared their snapshots on social media including Joe's aunt, Kerry Kennedy.
She wrote in the caption that he may now "kiss the bride," and shared a beautiful photo of the couple staring into each other eyes shortly before sharing their first kiss.
His father, Robert 'Bobby' Kennedy also shared the joyous moment with his Instagram followers and uploaded a group photo. Read more on our Twitter, @amomama_usa.
The young couple tied the knot in Hyannis Port in Barnstable, Massachusetts. The groom, also known as Bobby, wore a blue and green tuxedo jacket with floral print and a bow tie.
Fox dazzled wedding guests with an off-the-shoulder white wedding gown featuring floral embroidery. She accessorized with a starfish-adorned headband.
Both were barefoot, and Bobby Jr. was later spotted wearing a pair of round sunglasses. The dress code was casual and the wedding guests were dressed in pants and blazers but no shoes.
According to Daily Mail, the family celebrated for four days starting Thursday, with guests arriving during the course of the day.
The party officially started Friday evening under an outdoor tent were oysters were part of the menu, along with Corona beer and wine.
As reported by Pop Culture, Fox is a writer and peace activist but worked as a CIA service operative for several years.
She is also passionate about women rising to global leadership roles and urge women to step up because 'peace that comes out of negotiation run by women actually lasts longer.'
According to People, the Kennedy family love Fox and accepted her into their fold, with her father-in-law saying that is "really happy" about their union.
Please fill in your e-mail so we can share with you our top stories!