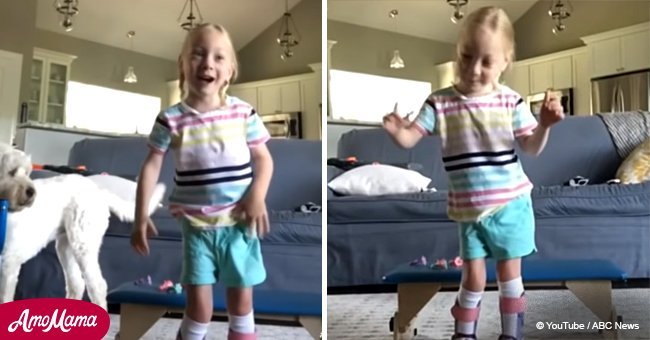 Inspiring video shows 4-year-old's first steps after life-changing surgery
4-year-old Maya took her first tentative steps without the aid of a cane or any other person nearby. Her delight was caught on tape, and it is truly inspirational.
The video uploaded to Facebook showed the emotionally moving jubilation of the young girl, who has cerebral palsy, as she was able to walk on her own successfully.
The girl's mother, Anna Tisdale, took to social media to post the video. She expressed her joy at seeing her baby walk through the caption to the video. Read more on our Twitter account @amomama_usa.
In the short video clip, Maya is seen lifting herself up while her brother, pet dog, mother and her father, are all watching from the side.
'I can't even put into words how we are feeling. Nothing seems to fit the enormity of this moment for us. We are proud of our Mighty Girl.'
Anna Tisdale, Facebook, July 1, 2018
As she starts to take her first steps, her parents warn, "Get your balance first." Her brother also encourages her by reminding her that she has done it "for a minute."
Finally, when Maya does manage to get her balance and takes the first successful steps, her joy knows no bound. She screams in delight, "I'm walking."
She keeps on repeating the same words again and again with a big smile planted on her face. She then manages to take several more steps.
Excited, she takes a much bigger step at one point in the video and wobbles a little before regaining her balance. She has already got a good grasp of it.
"That was a big marching step," said Toby, Maya's father, encouraging his daughter further. As the family continues to rejoice, Toby asks Maya to rest, and the girl takes a seat on the bench.
Please fill in your e-mail so we can share with you our top stories!