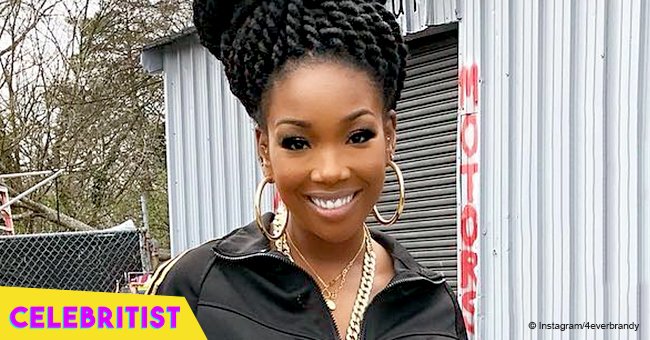 Brandy stuns with red lipstick and colorful outfit after drastic weight gain
She was rumored to be pregnant after she consciously put on weight. Now Brandy proves she's rocking her new "you" as she stepped out looking flawlessly stunning in giant braids and red hot lips.
Singer Brandy has had to fend off rumors of her pregnancy in the past revealing she purposely went on a "foodcation" after adhering to a disciplined diet for seven years. She told True Exclusives,
"I went on a foodcation because I'd been eating clean for like seven-something odd years, in the gym, every day, playing tennis. I'm like, 'Yo, I'm tired of this crazy discipline. I need something to eat! I want some pizza, I want some pasta, I want some cake! I want something other than salmon, broccoli and asparagus.'"
While she embraced her new weight, many suspected she was pregnant and even wildly assumed she was carrying her brother Ray J and his wife Princess's child. At this, her brother responded,
"Somebody said she was having our baby. That she was our surrogate!. I'm like, that would be love. That would be the ultimate hook-up if my sister was able to take time out of her life to have our baby. It's a little outrageous, but those are just some of the things that happen in the press. So for me, I just chuckle it off."
On her part, Brandy shut down speculation after performing in a show in Chicago in October. She wrote,
"#vocalsandsoul are all that matter here… close your eyes if you think I'm pregnant. (As long as y'all been saying it, the baby would have been born and at least 1 by now) #thickerthanasnicker I love it."
Today, Brandy proves she really isn't pregnant while hotter than ever as she showcases her inspired beauty in a photo she just posted on her way to the Essence Festival. The singer sported giant braids as her long black strands fell way beyond her shoulders. She was dressed in a colorful T-shirt over a white long-sleeved top. Her face was flawlessly made-up, highlighting her eyes and cheekbones with a bold splash of red lips.
Brandy's caption hit the mark as she wrote,
"Know there is only one you and that is your power...." #Branspiration #365Black #essencefestival"
Certainly, the mother-of-one is all power in her latest photo, evidence that her weight gain also gained her a brand of confidence exuding from her presence. The singer was right to embrace her new curves, she totally rocks them. Here's proof.
Please fill in your e-mail so we can share with you our top stories!