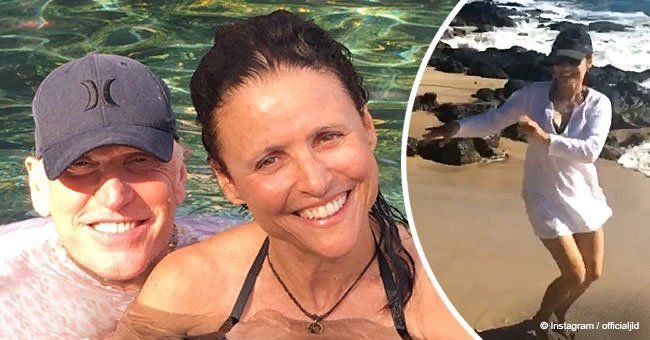 Famous actress shares first bikini-clad photo since breast cancer battle

Actress and comedienne Julia Louis-Dreyfus recently shared a bikini picture of herself a few months after battling breast cancer. In the image, she was on holiday with her husband.
The Instagram picture shows her smiling with husband Brad Hall in Hawaii. In the past, she's stayed away from events and other engagements to focus on her health and healing.
Veep actress Julia Louis-Dreyfus, 57, shared her first bikini image on Sunday. She shared the picture while vacationing on the Hawaiian isle of Lanai with her husband of 31 years, Brad Hall, 60.
The star mysteriously captioned the holiday picture, 'I had to crop this photo. You're welcome.' On the previous day, she shared a short video of herself dancing barefoot Hawaiian-style
For more on this story go to our Twitter account @amomama_usa. Louis-Dreyfus and Hall were clearly enjoying the remote location near Maui.
'She's doing awesome. She's getting stronger and stronger and we'll probably start shooting in August at the end of the summer.'
Tony Hale, Entertainment Tonight, May 18, 2018
The holiday destination, which is also known as Pineapple Island, has no traffic lights and only one hospital. The parents took some time to be alone as they left behind their two sons Charles, 21; and Henry, 26.
The actress revealed her cancer battle on September 28. Her last health update was on Valentine's Day where she captioned a Twitter image of herself, 'Hoorah! Great doctors, great results, feeling happy and ready to rock after surgery.'
She added, 'Hey cancer, "[expletive] you!" Here's my first post op photo.' The image she used for the post showed her looking healthy and confident.
Another big milestone for the actress this year will be her Mark Twain Prize for American Humor. The actress will receive it on October 21 at the Kennedy Center Concert Hall in Washington, D.C and she said she's 'insanely excited' about it.
Louis-Dreyfus holds the record for the most Emmys ever won by a single performer which is 11 in total.
Please fill in your e-mail so we can share with you our top stories!