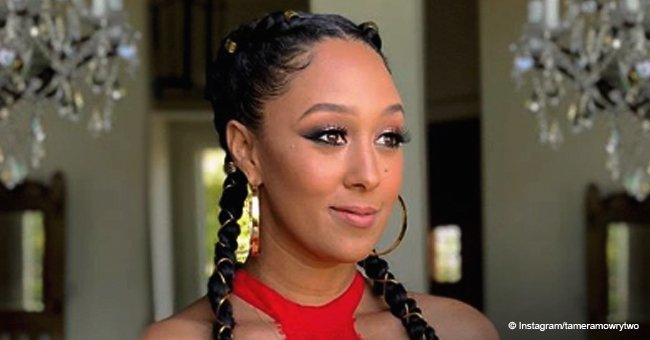 Tamera Mowry's daughter steals hearts with pink glittery dress in recent pic shared by uncle Tahj
Tamera Mowry's younger brother Tahj shared an adorable photo of Ariah sporting a pink glittery dress while eating a cake. Known as the "Ariah Whisperer", Tahj made sure to greet his niece on her birthday.
Just a few days prior to her mother and aunt's birthday, Ariah Mowry Housley turned three last July 1. Her loving family members made sure to share loving tributes for the little girl on social media, melting hearts of fans around the world.
One of the first to greet her was Tahj Mowry, little brother of Tia and Tamera. In his tribute, Ariah could be seen digging into a big slice of cake while dressed in a pink sequined tutu dress.
"she loved her cake. we also built a really awesome doll house today. It was 4 stories. happy birthday bubba"
Likewise, her mom's twin Tia made sure to greet the little girl as well, calling her "one of the coolest girls" she knows. The proud aunt expressed her love for her, saying she cannot wait for her and her newborn child Cairo to go on many adventures together in the future.
"This is one of the coolest girls I know! So happy to call you my niece!! Man, I love you! I can't wait for you and Cai Cai to go on many adventures! We love u beauty!! #3yearsold"
Of course, her parents didn't miss out on the social media party, sharing adorable photos of their the birthday celebrant. The proud parents made sure to let everyone know how proud they are to be the parents of one smart girl.
"My partner in crime is 3 today. I can't believe it. Seems like yesterday chunk monk came into this world and she, like her brother, will continue to make this world a better place. So blessed to be Ariah's father. #thehousleys#daddysgirl"
What stood out however, was the photo Tamera posted during her daughter's birthday. In the photo, Ariah could be seen doing a "side eye" look, which she has been doing since she was a toddler.
However, despite this signature look of hers, the doting mom shares with her followers that Ariah is actually one of the sweetest kids in the entire world.
"At such a tender age of 3 you can already tell she knows what she wants. Whether it's a side-eye, a big smile or jovial laugh. She connects. She truly cares about her little family. Ariah you seriously are my best friend and you make my days brighter. I'm so grateful and can't wait for more fun adventures. I love you. "
Happy birthday, Ariah Housley!
Please fill in your e-mail so we can share with you our top stories!