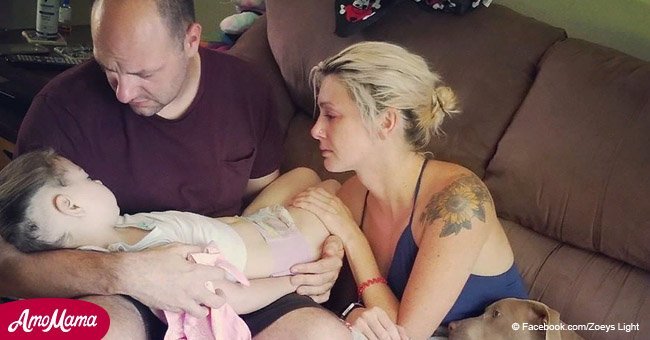 Heartbroken parents share daughter's final moments in emotional photo
Casey and Ben Daggett were devastated when they lost their daughter, Zoey, earlier this July. They shared an emotional photo on Facebook to express their grief.
The couple tried their hardest to make their five-year-old daughter feel loved during her final hours as she was suffering from a rare type of brain tumor.
The heartbreaking photo, which was posted on Zoey's Facebook page, showed the family in their home in Fairport, New York.
While Zoey had her eyes closed, Ben and Casey knew she could still hear them.
During her final hours, the couple told their daughter how much they loved her.
Follow us on Twitter at AmoMama USA for more details about Zoey and her condition.
The photo was taken by their home nurse at 11:30 a.m. on July 4th. Zoey, unfortunately, passed away at 4:17 p.m.
Talking about the picture, Casey told Today, "I thought it was a beautiful thing. You can see our emotions. It just warmed me because that picture showed the love we had for her."
The Facebook page was a way for the couple to update their friends, family, and the rest of the world about Zoey's journey, which began two years ago.
In July 2016, Zoey was diagnosed with a rare tumor in the brain stem and spinal cord called diffuse intrinsic pontine glioma (DIPG).
The family spent the last two years doing every possible treatment just for the little girl to be healthy again. It was only until last month when they found out she wasn't responding to radiation treatments.
As a reminder of their beloved daughter, Casey and Ben both got matching tattoos on their arms of the sound waves of Zoey's voice. The sound waves represent the fiver-year-old saying the words "I love you" and "not today."
The couple had their tattoos made in June 2017. At the time, they thought Zoey was going to bid them goodbye.
The comments of support from the public have helped Ben and Casey in coping with the grief. They said they are hoping that the photo will help spread awareness and gain financial help for DIPG.
Please fill in your e-mail so we can share with you our top stories!