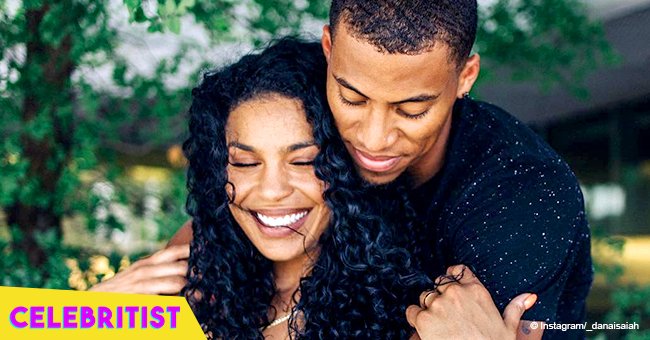 Jordin Sparks' baby son steals hearts with cute smile in recent picture

Dana Isaiah posts a lovely photo of his wife Jordin Sparks cradling her son and shares his thoughts in one word.
Jordin Sparks's husband Dana Isaiah shared an adorable post claiming his wife and son his. The singer who's now a mother to 8-week-old Dana Isaiah Jr. couldn't be more content in the black-and-white photo where she's holding on to her baby with her eyes closed.
"Mine," Dana simply wrote in his caption, allowing the beautiful photo to speak for itself. Make-up free but full of love, Jordin glowed as she cradled her curly-haired child.
Speaking to People for its June 29 issue, the songstress gushed,
"I'm a mom. That's so nuts. I have moments where it just hits me."
The 28-year-old welcomed her baby she fondly calls "DJ" on May 2 through a natural birthing process she decided to have.
"Hospitals just felt a little weird and strange [to me]. I had a feeling I wasn't going to be comfortable on my back, and I didn't want to have to give birth that way."
Jordin also revealed her supportive husband was by her side the whole time she labored.
"He was right by me the whole time. When I was going to different places and different universes with the contractions, he was right there in my ear or rubbing my back."
Then when the baby finally arrived, it was the new father who caught his son revealing he and his wife "cried like little babies" after.
"It was just that realizing moment, that everything you had been preparing for was here in your hands. Every emotion that you felt throughout the entire pregnancy from start to beginning just 'Bam,' and it hits you."
Jordin and Dana had a whirlwind romance that began in April 2017 and culminated in an impromptu Hawaiian wedding three months later in July. Soon after that, the couple discovered they were expecting a child.
Please fill in your e-mail so we can share with you our top stories!