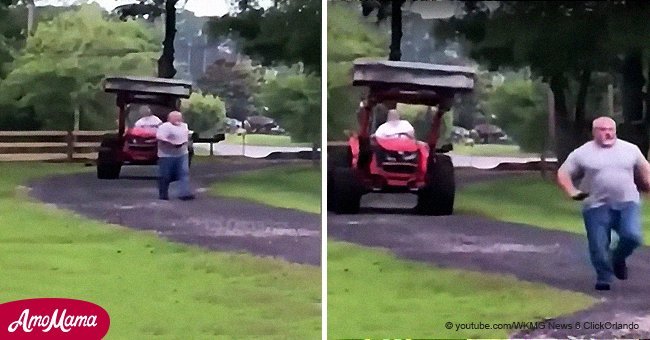 Man charged with aggravated assault after trying to run neighbor down with tractor

In one of the weirdest case of property dispute ever seen, a 72-year-old man was arrested for threatening to mow over his neighbor on a tractor in Florida.
72-year-old Howell Morris of St. Johns County, Florida was booked over charges of aggravated assault after he was caught on camera chasing his neighbor on a tractor, threatening to run over him.
As reported by News4JAX, the incident occurred in late June 2018. As per the report, the dispute was over the land easement Morris shared with neighbor Scott Lynch.
Lynch's wife said that Morris keeps blocking his driveway and destroying anything built on the easement which is actually owned by Lynch.
A video recording of the incident and the audio of the 911 call in response to the attack has now been released by the Police department.
Read more about similar stories on our Twitter page @amomama_usa.
The video caught by Lynch's wife shows Morris climbing on his tractor and running after Lynch, while hurling abuses at him. He reportedly yelled at Lynch "Run, fat [expletive]!" as he gunned the tractor down his driveway.
Lynch, who is 55 years old, can be seen running for his life, away from the tractor. He apparently had to run into his garage, and shut the garage door to escape from the tractor. He said that he was sure he would have been run over had he not run away.
Lynch's wife then proceeded to make a much harried distress call to 911, which is now released by the local Police Department. In the audio, Lynch's wife can be heard explaining the situation of the land dispute.
Morris, reported to be a veteran, was arrested immediately and charged with one count of aggravated assault with a deadly weapon without intent to kill.
Morris has since then posted his $2,500 bond and has been released from the St. Johns County jail. He has been ordered by the authorities to not have any further contact with Lynch and his family.
Please fill in your e-mail so we can share with you our top stories!