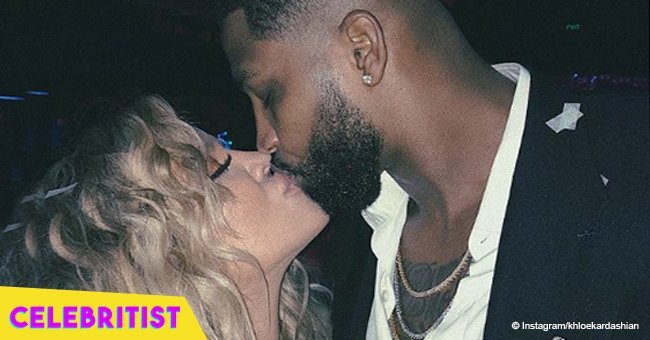 Tristan Thompson dances with daughter True in his arms in heart-melting video
The reality star became a first time mother 12 weeks ago when her baby girl was born, and since then she has shared plenty of updates with her fans via her social media accounts.
Khloe Kardashian and Tristan Thompson welcomed their daughter, True Thompson, on April 12, amid the scandal over Tristan's cheating scandal during Kardashian's pregnancy. She is Kardashian's first child, and Tristan's second.
Since her birth, True has featured on plenty of her mother's Instagram posts and Snapchat stories. A recent post by Kardashian has melted hearts, but also caused some controversy.
In the video clip, Tristan can be seen dancing around to a classical tune while holding his baby girl as he would a dance partner.
Within just a day, the youngest Kardashian sister's post had already racked up over 65,000 views, and almost 10,000 likes.
Originally appearing on her Snapchat, it was shared to Instagram later, but some fans questioned the footage and Kardashian's motive for posting it.
"Khloe is trying so hard to prove that he wants a family with her, we know this is forced sis," one follower commented, and another added: "This IS all PR business trying to get his image back, but we all know he is [expletive]."
"Khloe, see I like you and you trying to make me like Tristan, and I'm not feeling this. I feel really pressured," another fan wrote, while one more called Kardashian on what she considered to be fake.
"They really trying hard to portray him as this loving partner and dad. GTFOH. If he was, these videos/photos would have surfaced with his son Prince — regardless of whether he was with the mom or not. Don't be fooled."
In the footage, Tristan was decked out in his full Cleveland Cavaliers gear holding the baby girl, who is wearing a blue onesie with a slight frill skirt and a pair of white socks.
As her dad holds her tight and twirls her about, she seemed confused by the movement. By the looks of it, the daddy-daughter duo are practicing their dancing skills in True's nursery.
Kardashian and Tristan have been working on their relationship since the cheating scandal broke just days before True was born. Thus far, they seem to be holding themselves together.
The reality star has been staying with Tristan in Cleveland since their baby girl was born, where they have been trying to mend the damage done by the videos of Tristan kissing another woman.
Please fill in your e-mail so we can share with you our top stories!