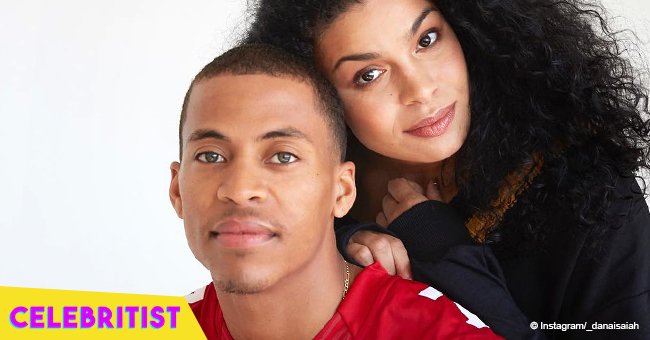 Jordin Sparks melts hearts with photo of baby boy with bright blue eyes
The American singer, songwriter, and actress has become a wife and a mother all in one year, and has shared a number of photos of her sweet baby boy to her social media accounts.
Jordin Sparks and her husband, Dana Isaiah, only met in April 2017. Three months later they tied the knot after eloping to Hawaii, and one month after that the singer discovered she was pregnant with a baby boy.
The couple readily admits that their relationship has been a whirlwind romance, but they have taken on every twist and turn together.
On May 2, Dana Isaiah Jr. was welcomed into the world by the elated couple, who later revealed that it had been a difficult birth, and their baby boy had had his umbilical cord wrapped around his tiny neck twice.
Recently, with Dana Jr. being 2 months old, his proud papa took to Instagram to share a beautiful photo of the little one.
In the image, baby Dana can be seen lying on his father's chest, his big blue eyes wide open and his tiny fist balled up under his chin. The besotted father was kissing his baby's head.
"I wanna thank God for working way harder than Satan. He's playing favorites. It feels amazing..." the 26-year-old fitness trainer wrote in the caption of the pic.
The "American Idol" alumni gave People magazine the details about the birth of her son, as she revealed she had an all-natural water birth, and her husband was there to catch the baby. Fortunately, they had a midwife on hand to remove the umbilical cord.
"I didn't see it because I was facing the other way," Sparks explained, "Dana was like, 'I don't know what to do.' He said it almost looked like a scarf — it was wrapped around his neck and body."
While Dana held their newborn son, the midwife took charge and unwrapped the cord quickly, "He took his first breath and then [Dana] handed him to me," Jordin said.
But since the birth of their beautiful boy, the couple have become even closer.
"I feel like he makes us rely on each other even more because we both have to check in more. Not 'check-in' in the sense of 'hey, what are you doing?' but like, even when I go to the gym in the morning I'm texting her like 'hey, do you need anything while I'm out?' because you never know if he needs anything," Dana explained.
Please fill in your e-mail so we can share with you our top stories!