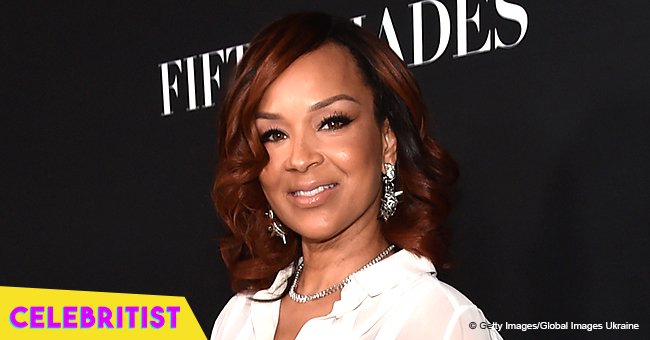 Lisa Raye's granddaughter steals hearts in rose-printed shirt & tiny shorts in new photo
Lisa Raye McCoy recently surprised the world by announcing her engagement in ABC's new show "The Proposal," but despite having a new man in her life, she still has time for her adorable granddaughter, Bella Rae.
Little Bella Rae, the first baby of Lisa's only daughter Kai Morae Pace, is a stunner just like her mom and grandmother. At 1-year-old, Bella is already rocking her best outfits with confidence and a massive smile on her face, and fans can't get enough of her cuteness.
In one of the recent posts shared by her mom on Instagram, Bella is rocking an off-the-shoulder rose printed white t-shirt, ripped denim shorts, and a pair of red and white socks that resemble a pair of shoes. Her raven curly locks were secured tightly in a high ponytail, revealing her big shining eyes and chubby cheeks.
Kai Morae took the chance to promote the clothing brand her daughter was wearing and gushed about how cute her baby girl too:
"Little miss @babybellarae rocking her @tiinytreasures outfit on this beautiful Sunday afternoon looking too cute if I must say so myself. Check out their website moms & dads, you won't be disappointed!!"
Bella Rae was born in December 2016, and Lisa couldn't be happier about being a grandma. She's continually spending time with the tot and showing off their deep bond on her Instagram account with photos that make her fans' hearts melt.
On the 5th of July, Lisa shared an adorable video of her celebration of Independence Day on Instagram. In the clip, the actress is seen rocking little Bella inside a pool as the girl happily babbles wearing an orange safety swimming vest.
Is clear that Lisa takes care of her granddaughter properly, and Kai sure has learned a thing or two from her mom about children. The "All of Us" star revealed in an interview with The YBF years ago that she raised Kai to remain humble despite all the commodities she had in life thanks to Lisa's job.
"My daughter has lived a privileged lifestyle by virtue of being LisaRaye's daughter," she said. "And sometimes that's a downfall because you have to learn how to get it for yourself. So for me, I had to sit her down and say--I'm going to make a contract between you and I. This contract will say what I will do for you and these are the things I am expecting in return. I did this because life is a contract."
The 51-years-old beauty, who has been married twice, recently surprised her fans and friends alike by making a special appearance on ABC's "The Proposal," where she met a man named Anthony Bryant that meets her requirements, and now she's officially engaged.
Speaking to EUR Web about this new adventure in her life, Lisa revealed that the couple is still getting to know each other and make it work. Right now, they're in a long-distance relationship, because she lives in L.A and he works in Chicago.
"We're in a long-distance relationship, but that doesn't stop us. We're working on our schedule even now because he knows I'm not a phone person, so my phones always stay dead. We're trying to get through that first, and then our schedule will collide and make sure we put some time aside and commit to being able to see each other and support each other in what we're doing in our endeavors."
When asked if there's a possibility of their future wedding being televised on a special show, Lisa said:
"We won't tell you guys that until after we figure out how we want to do things and how we want to unfold things in our life. We gotta keep you on edge for something."
Congratulations to Lisa on her engagement, we wish her all the happiness.
Please fill in your e-mail so we can share with you our top stories!