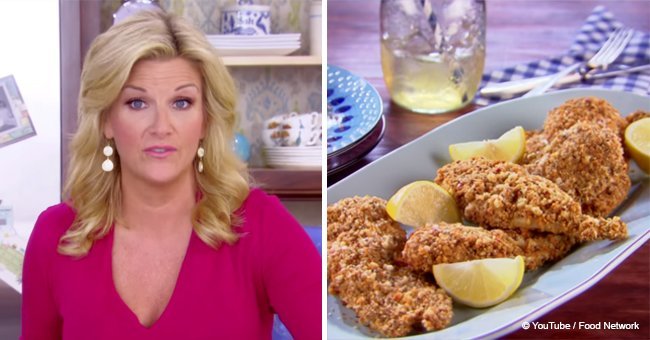 Trisha Yearwood's recipe for 'unfried chicken'

Country star Trisha Yearwood shared her secret to enjoying what tastes like fried chicken without actually frying it.
Yearwood called it an "unfried chicken." In a video from her Food Network Show, Trisha's Southern Kitchen, she shared how to make her unique chicken recipe.
Although she hasn't completely stopped eating Southern fried chicken, she shared that she only eats it a couple of times a year.
Yearwood has always been a fan of cooking. For more details about her, follow us on Twitter at AmoMama USA
The star shared the ingredients and how to cook the unfried chicken, which also has buttermilk like the Southern classic to tenderize the chicken.
Her recipe, according to her, serves about four people.
The ingredients include 4 boneless, skinless chicken breasts, which are cut in half, a cup of buttermilk, a tablespoon of hot sauce, 1½ cups multigrain panko breadcrumbs, 3 tablespoons grated Parmesan cheese, a tablespoon freshly grated lemon zest, 1 teaspoon red pepper flakes, lemon, salt, and freshly ground black pepper.
Yearwood started off by preheating the oven to 400 degrees. She combined the buttermilk and hot sauce in a medium bowl.
In another container, Yearwood mixed the breadcrumbs, Parmesan, lemon zest, red pepper flakes and a pinch of salt and pepper.
After seasoning the chicken with salt and pepper on both sides, she submerged them in the buttermilk mixture.
Taking the chicken out of the liquid mixture, Yearwood went ahead to dredge them in the breadcrumb mixture.
Afterward, she placed the chicken on a nonstick baking sheet and put them in the fridge, while uncovered, for 30 minutes.
When it was ready to be cooked, she placed the chicken pieces inside the oven and baked them for about 25 minutes.
Yearwood had lemon squeezed over the chicken right before taking a bite.
One tip the country star shared was never to skip the step of refrigerating the chicken for 30 minutes before baking. Otherwise, the crunchy crust will fall off.
Please fill in your e-mail so we can share with you our top stories!