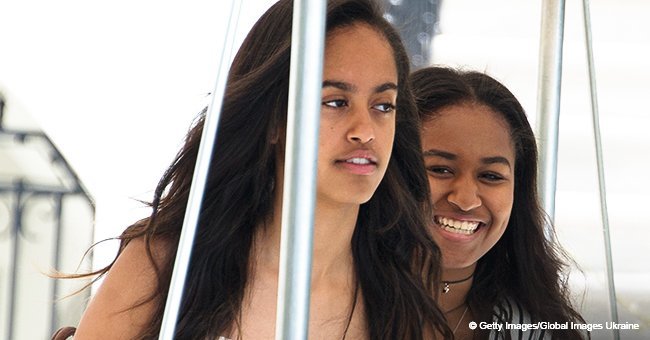 Michelle & Sasha Obama steal the show in white outfits while attending Beyonce & Jay-Z's concert
Michelle Obama stuns in a pair of shorts attending the Paris concert of Beyonce and Jay-Z on the same day France won the World Cup title. Her daughter Sasha who joined her that night glowed in a white cropped
Michelle Obama and her daughter Sasha Obama expressed their support for power couple Beyonce and Jay Z when they showed up at their concert in France.
The Former first lady and her 17-year-old matched in white attending the affair as they were joined by the Queen Bee's mother, Tina Knowles
Michelle rocked a pair of white shorts, a matching tank top and a loose white cover-up paired with beige platform sandals as she stood alongside Tina at the VIP area in front of the stage. She was clearly having a good time dancing and waving her hands in the air along with the rest of the crowd.
Sasha wore a white sleeveless cropped top and a pair of jeans, looking beautiful with her hair "laid" as one Twitter user commented in a tweet.
The show was the second of two Beyonce and Jay-Z staged in Paris for their 'On The Run II Tour.' The couple even treated their French fans to a screening of the World Cup championship before their concert. On Instagram, Beyonce shared a clip of the moment when fans went wild as France scored a point and also featured photos from the stage of the audience enjoying the game.
Right after France won the World Cup title against Croatia, The Carters emerged on stage to perform for a deliriously happy crowd.
This isn't the first time the Obamas attended a concert of the 'Crazy In Love' songstress. In 2014, Michelle, Sasha and Malia attended Beyonce's Chicago gig too. Photos of the then First Lady and her daughters at the event were shared by witnesses in social media.
The Obamas and Carters have a long history that dates back to the first time Michelle's husband, Barrack Obama ran for president. Jay-Z hit the campaign trail in support of the former president. The singing duo also made several visits to the White House since then and attended the Obama's farewell party as well. Last year, Barrack gave the introduction when Jay-Z was honored at the Songwriters Hall of Fame.
Please fill in your e-mail so we can share with you our top stories!