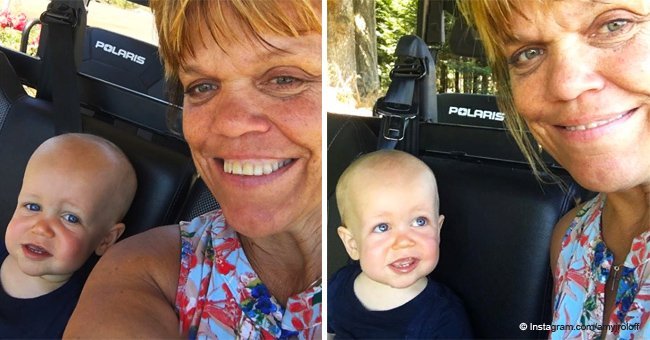 'Little People, Big World' star Amy Roloff receives huge backlash from fans

Amy Roloff was recently criticized over an Instagram post with her grandson Jackson
Amy Roloff, 53, Little People, Big World reality star, shared a sweet snap with her grandson, Jackson, 1, on Instagram but the photo was not well received by granny-shamers.
In the photo, Roloff is sitting next to Zach and Tori's baby boy - Jackson - on a tractor. The pic is sweet, but what struck followers was the fact that Jackson didn't seem to be properly secured in his seat.
The outraged critics pointed out that the baby wasn't strapped in safely, and others noted that he wasn't wearing a helmet. Read more about Amy Roloff on our Twitter account @amomama_usa
"Why is he not in a car seat or strapped in? Very, very careless!!! Wow... no helmet?"
Annonymous Instagrammer
Others lept to Roloff's defense expressing the view that the child was with his grandmother in an ATV and not a car. She was not driving around while taking the selfie.
Roloff's defenders pointed out that she loves her grandson and would never put him in harm's way.
Roloff has had a hard year and has been recovering from the end of her 30-year-long marriage with her ex-husband Matt while still working closely with him.
She posted several texts on Instagram about "letting go" and "moving on," and she is now in a new relationship herself.
Roloff started dating Chris Marek, a real estate agent from Portland, Oregon, and the two have now made their relationship status official.
Matt and Chris seem to get on well, and Roloff's boyfriend is featured in numerous posts, inclusively with her children and grandchildren, Jackson and Ember,
Please fill in your e-mail so we can share with you our top stories!