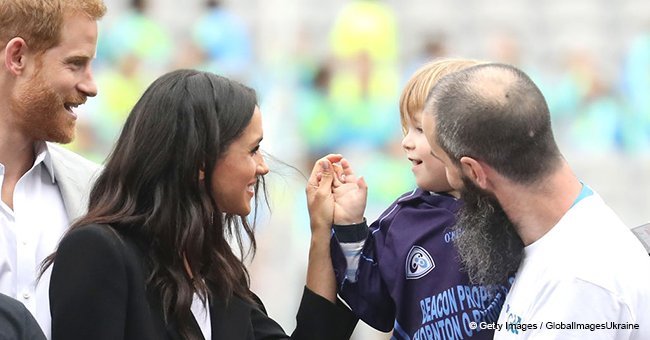 Baby couldn't stop touching Meghan Markle's hair, so Prince Harry sweetly rebuked him
Three-year-old toddler Walter Kieran could not resist Duchess of Sussex Meghan's beautiful hair and kept touching it until Prince Harry pretended to wag his finger at him.
The Royal couple were at a meet-and-greet in Dublin's Croke Park on July 11, 2018, reported People.
Post their marriage, Prince Harry and his wife Meghan Markle seem to have been extremely busy with several Royal outings planned for the couple.
The recently-married duo attended the christening ceremony of Prince Louis in the second week of July followed by being part of the 100th-anniversary celebration of the Royal Air Force.
Following this, they left for a trip to Dublin, Ireland. On July 11, the duo visited Dublin's Croke Park. It was here that Meghan Markle must have felt like Rapunzel.
The Duchess befriended a three-year-old toddler Walter Kieran at the park. The Duchess had her hair open after having it up in a bun when she met President Michael Higgins along with her husband, Prince Harry.
The cute toddler found the beautiful hair of Duchess of Sussex irresistible and kept touching it repeatedly. He even began touching her face. All this happened when the newlyweds were part of a meet-and-greet event at the park.
The Duchess also found this funny and smiled back at the toddler and even held his hand. Not to be left behind, Prince Harry, like a loving husband, jumped into the fray. He pretended to wag his finger at the toddler indicating a pretend scolding.
In another similar moment with children, Prince Harry allowed a four-year-old to pull his red beard.
When Dylan Mahon tugged the beard of the Prince, he jokingly broke into a grimace while the Duchess tried hard to stifle a laugh. Prince Harry went on to tell the toddler that he may soon grow a beard.
The duo of Prince Harry and Duchess of Sussex had proved they have great children-wrangling skills on the day of their marriage when the portrait of their little bridal members was being made.
According to the Duchess of Sussex's old friend and makeup artist Daniel Martin, the pair desired to see the children and family in the same frame.
Hence, when a photograph was taken, it was effortless, happy and Prince Harry was busy at play with the children.
Please fill in your e-mail so we can share with you our top stories!