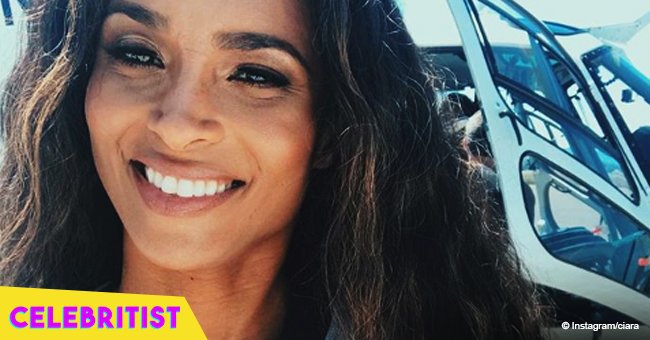 Ciara leaves nothing to imagination in a patent leather bikini paired with knee-high heels

Singer and songwriter Ciara Harris, best known as Ciara, uploaded to her Instagram account a photo of herself wearing a striking and revealing leather outfit.
In the image, which was uploaded on July 14, the singer was shown in a crawling-like pose with her long locks let loose. Even though her knee-high heels attracted a lot of attention, her black leather bikini was the highlight of the image.
The upper part of her ensemble consisted of a tiny and skin-tight crop-top that put her figure on full display. As for the accessories, she only chose a black choker-like necklace.
Apart from that picture, Ciara shared a couple more wearing the same outfit. One of them portrayed the singer walking as if she was on a catwalk during a fashion show.
Her fit, toned, and muscular legs were the most impressive aspects of the image, and Ciara's fans and followers noticed it, so they took to the comment section to praise her and share their thoughts.
One of them was Instagram user Katy Sharpe, who pointed out that Ciara's legs were 'insane.' She added that the singer looked incredible and that her hard work was paying off.
For the final photo, Ciara was posing in a squat-like position seriously looking at the camera. That picture set clear how beautiful and well-cared skin the singer has.
Ciara has been very active in her Instagram account by posting photos and videos of most of the activities she does. Last week, the singer uploaded a video that showed her and her husband, Russell Wilson, doing the In My Feelings Challenge.
The video starts with Ciara and American football quarterback Russell getting out of a vehicle. The singer was wearing a sleeveless, long, black shirt and black shorts while Russell put on a black ensemble, as well.
When they hopped their way to a grassy and open space, the song In My Feelings by Drake started playing. The couple began dancing, but Russell ultimately sat down and watched his wife dancing.
The video ended with Ciara twerking for a couple of seconds and then laughing while walking back to the car.
Please fill in your e-mail so we can share with you our top stories!