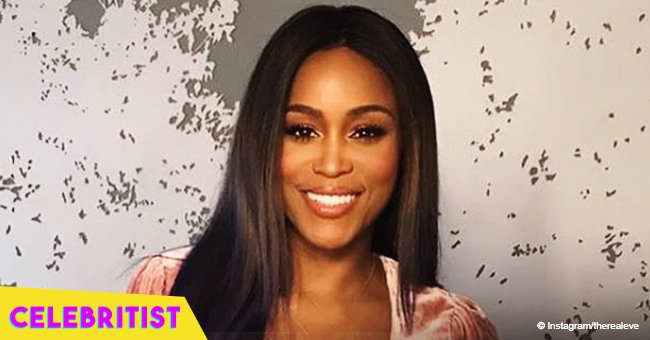 Eve shows off dance moves in tight, black outfit in recent video
The "The View" co-host shared a video to her Instagram where she's dancing in the company of some friends to one of Drake's latest hits.
Eve just gave her followers a sight to sore eyes after sharing a video to her Instagram account dancing to Drake's single "In My Feelings," as part of the viral #InMyFeelingsChallenge.
The 39-years-old looked stunning wearing black leggings with white stripes down the side, a black top, sunglasses and black sneakers as she showed off her best moves in the company of three of her friends.
Eve revealed in her caption that she filmed the video after a recording of her talk show "The Talk," as she wrote:
"Today after #thetalk @angelacstyles @ernestocasillas @trina331 and #gene on the #stoop #shiggychallenge #glamsquad #inmyfeelingschallenge #inmyfeelings"
Last month, the former rapper and actress celebrated her 4th wedding anniversary with multimillionaire English businessman Maximillion Cooper, and she shared a beautiful set of pictures to commemorate the occasion.
Starting with one shot of their wedding ceremony and passing through several events they have attended together and other personal trips, Eve showed off the incredible relationship she and Maximillion have.
She also wrote a heartfelt message to her husband on the caption saying:
"#happyanniversary baby!!! Can't believe it's been 4 years!! We've already been through a lifetime of adventures and can't wait to go through a life time more!!!! @mrgumball3000 I love you @mrgumball3000 #mrscooper."
Eve recently addressed on "The Talk" the pressure that people has put on her about having children of her own since Cooper is the father of four kids from a previous relationship.
"I am so sick about people making a big deal about women's ages. They don't do this to men," she said.
"My 39th birthday is next week, it's in eight days, and the one question that I get is men and women ask me, 'How old are you again? Oh, you don't have any kids? How old are you again?' And I'm like, 'You heard me say how old I am.'"
She mentioned that she's eager to have kids and admitted that they've been trying for a while without any result. "We can't wait to have kids of our own. Whoever is in charge, make it happen. I can't wait," she revealed.
Maximillion and Eve will be joining at least 300 drivers at the Gumball 3000 rally in August. This year, the star-studded race/festival will go from London to Tokyo.
Please fill in your e-mail so we can share with you our top stories!