The Sun: Kate Middleton's bow-adorned brooch at Wimbledon has special meaning  
The Duchess of Cambridge attended Wimbledon over the weekend first with Meghan, the Duchess of Sussex. Prince William joined her the following day. 
Catherine wore a bright yellow Dolce & Gabanna dress to the Men's Single Final on Sunday, but another aspect of outfit grabbed observers' attention: the green and purple bow brooch. 
As reported by The Sun, it's not her trademark jewelry style but it carries a special meaning nonetheless. Read more on our Twitter, @amomama_usa.
As decreed by the Queen, Catherine is a patron of the All England Lawn Tennis and Croquet Club. Green and purple are the official Wimbledon colors and the bow is a symbol of her patronage.
Male patrons usually wear a tie in the official colors instead of a bow, but William opted for a navy tie. Meghan isn't a patron of the Club and therefore didn't wear the official colors. 
For her outing with Meghan the previous day, Catherine chose a white dress with polka dot print and sported her famous blow-out hairstyle while her accessories and makeup were kept to a minimum.
From pictures taken on the day, Meghan and Catherine had fun during their solo outing together and could be seen laughing and enjoying each other's company.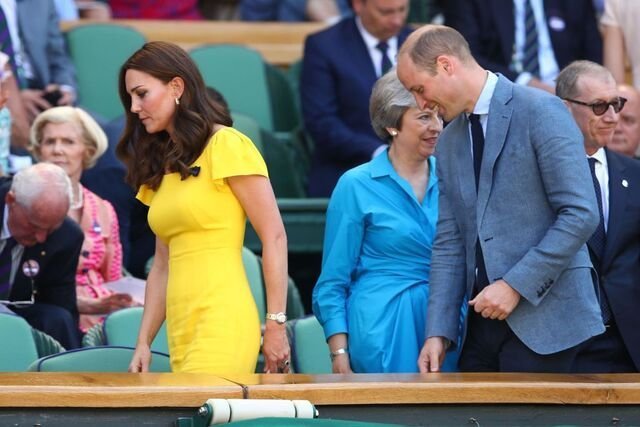 Meghan turned heads in a pair of cream pants with blue and white striped shirt, and her hair was styled in her signature 'messy bun' with a few strands framing her face. 
She accessorized with a clutch bag and wide-brimmed white hat. The duo cheered Serena Williams, who is a personal friend of Meghan, but Williams ultimately lost to Angelique Kerber.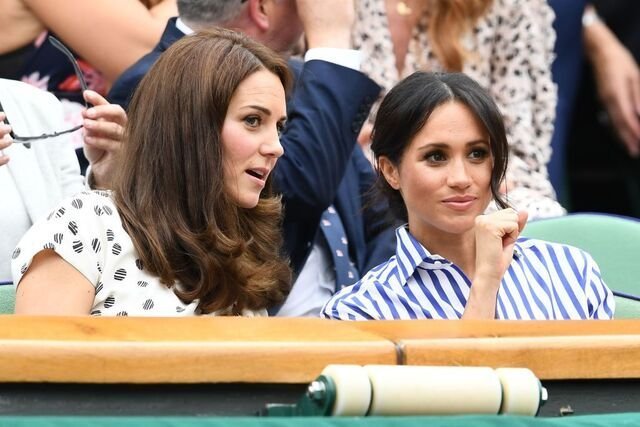 Kerber is a three-time Grand Slam champion, and apart from the Wimbledon win, her titles include the 2016 Major Australian Open as well as the 2016 US Open. 
Williams is ranked the top tennis player on eight separate occasions and has played in 18 championships and has won 785 out of 914 matches played.