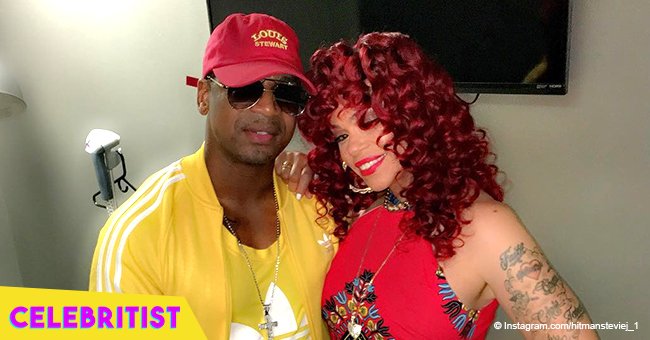 Stevie J and Faith Evans reportedly wed in private Las Vegas ceremony
The couple have been linked together before, but have been keeping their relationship on the down-low. Now, they may be keeping an even bigger secret from their fans.
Tweets between singer Faith Evans and Steven Aaron Jordan - better known by his stage name Stevie J - have sparked a furore of rumors that the couple may have tied the knot in a secret ceremony.
Although the couple has been spotted together before, and were open about the fact that they were dating in 2016/2017. But in mid-2017, Evans said that they were no longer together because he hadn't been committed enough.
A year later, that may have changed. In the early hours of July 18, Stevie J tweeted a message to Evans, which started the speculation.
While the tweet may seem innocent enough, it was his use of his own last name at the end of her first names that caught fans' eyes.
And Evans did nothing to rebuff the rumors when she responded with:
According to TMZ, the couple had applied for a marriage license just the day before in Clark County Las Vegas.
At this stage, neither Evans or Stevie J has officially publicly shared the news, leaving all of this to be simple speculation.
The couple first met in the 1990's, when Evans was still married to Biggie Smalls, who was sadly shot in a drive-by shooting in 1997. Following his death, there were rumors even back in the 90's that Evans and Stevie J were romantically linked.
But confirmation that the couple were actually dating only came in March 2017, after Evans had been married to and divorced from Todd Russaw.
"I never took Stevie serious actually," Evans said in an interview with Essence. "I think probably in the last 10 years, I would say, is he trying to flirt? Lets go. But I never saw him like that. I have always had plenty of male friends. Never dated any of them. I was just really cool like that. I think I really should have been a boy or something. But I'm just cool with dudes. I would check on him, just hear if he was going through stuff and find out how to get in touch with him….[I was] Just really sincerely his friend."
Stevie J eventually wore her down though, and the pair started dating. It didn't last long, as Evans felt that he wasn't 100% committed to their relationship. Despite their breakup, Evans shared she still cared for him.
"I still love him; I love him as a friend. I love him but it's not like I'm in love with him," she explained.
It seems that just a year on from that statement, things may have drastically changed!
Please fill in your e-mail so we can share with you our top stories!