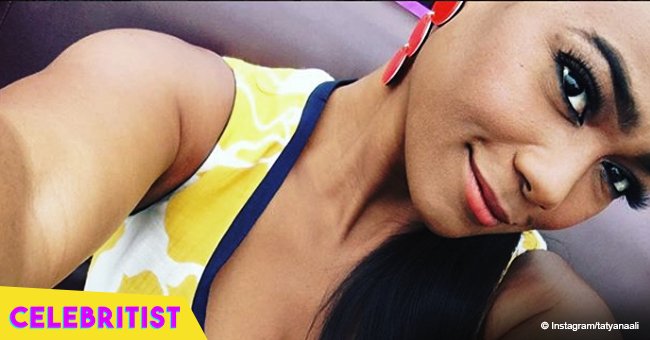 Tatyana Ali pays touching tribute to husband on their 2nd wedding anniversary in sweet photo
The American actress and singer has been married to her hubby for two years now, and never lets an opportunity to share her appreciation of him slip by.
Tatyana Ali and Dr Vaughn Rasberry tied the knot on July 17, 2016. Since then, they have welcomed a young son, Edward Aszard Rasberry, and celebrated their 2-year anniversary.
On said anniversary, the actress took to her Instagram account to share a photo of herself and her husband looking happy and cozy together as they smiled at the camera.
"Happy 2nd Anniversary to my husband, Vaughn Rasberry- my kind, generous, intoxicatingly brilliant and super sexy love. You are my sun. I am so blessed to share this life with you. #soulmate," Ali captioned the image.
Within just 2 days, the post already had almost 40,000 likes, and plenty of comments from fans and followers in the comments section congratulating them on the milestone.
Rasberry wore a grey button-down shirt that he left unbuttoned at the neck, while Ali wore a black shirt with a high neckline and a large necklace pendant. She left her curly hair hanging loose, and had her arm around her husband's neck.
On Father's Day, Ali shared another sweet image of her husband, this time with their 18-month-old son, sitting on the couch together. The sweet little boy had a cheeky smile on his chubby face, while leaning back on his dad.
Edward is a perfect combination of his two parents, and Ali's fans were gushing about him in the comments section of the post.
The actress has also become heavily involved in politics and activism, having graduated with a bachelor's degree in African-American studies and government from Harvard University in 2002.
With the current administration's policies, she has attended a number of protest marches. She even took her young son with her when she attended a march over the US's immigration policy separating children from their families.
"#familiesbelongtogethermarchsf#familiesbelongtogether #sanfranciscoFamilies don't belong in detention centers! Babies belong with their parents, their families. Congress do your job. The people are!" she captioned the shot.
Ali and Rasberry had been dating for two years when they announced in March 2016 that they were engaged. Oh, and that the actress was pregnant.
They tied the knot in an intimate ceremony in Beverly Hills, California.
Please fill in your e-mail so we can share with you our top stories!